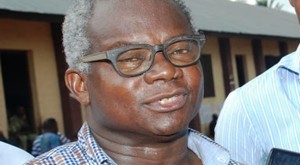 Osita Okechukwu, publicity secretary of the Conference of Nigeria's Political Parties has blamed the strike embarked upon by doctors for the death of his undergraduate son last weekend.
Okechukwu, who was left embittered, urged the Federal government and Nigeria Medical Association to do all within their powers to resolve the impasse.
The doctor's industrial action, which is mainly based on their demands for improved welfare packages in the health sector, has gone on for many weeks now without any end in sight.
Okechukwu, a chieftain of the All Progressives Congress (APC) said the lingering strike by the doctors contributed immensely to the death of his son, Matthias Koso Okechukwu, a third year Law student at Baze University, Abuja.
The young man took ill and was rushed to a private hospital in Abuja, his situation was said to have become even more critical but the specialists' attention which the young man required at the National Hospital was not readily available.
While recounting how his son might have been saved, Okechukwu said "If there was no doctors' strike, perhaps my son would have made it.
"Matthias actually suffers from Muscular Dystrophy and developed crisis on Saturday 9th August and was quickly rushed to a private clinic at Garki and the doctor on duty referred us to National Hospital Abuja, saying that the machine capable of restoring his normal breathing can only be found at the National Hospital.
"On getting to the National Hospital, the only doctor found on duty battled to save Matthias but couldn't as she couldn't reach the equipment in the Pediatric Department to resuscitate Matthias. So had it not been for the strike adequate attention could have been paid to him, "he said.
"I therefore passionately plead that the government and the doctors should in the interest of Nigerians quickly resolve the impasse, " he added.