The Debt Management Office (DMO) has helped to facilitate bailout for 23 states of the federation by working out an arrangement under which their domestic debts were restructured for repayment over a much longer period.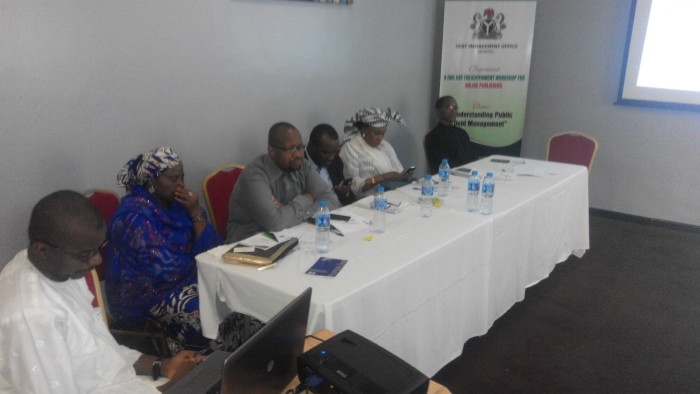 Director General of DMO, Dr. Abraham Nwankwo, disclosed this on Friday while speaking at a workshop for online publishers organised in Lagos by the Agency. He said that DMO came up the debt restructuring proposal as its own way of assisting states facing financial crisis as a result of declining federal allocation occasioned by the sharp drop in federal revenue as a result of the plunge in the price of oil in the international market.
"We made the proposal to the Vice President, who liked it and took it to the President, who approved it and then presented to the National Economic Council, which also approved it. Twenty-three states showed interest and we have restructured their debts into 20-year Federal Government of Nigeria bonds," Dr. Nwankwo said. He gave the total debt restructured at N575 billion, disclosing that 15 banks are involved in the exercise.
The DMO DG commended President Muhammadu Buhari for promptly taking appropriate steps to bail out financially troubled states. "Countries have problems from time to time. What matters is how fast the leadership responds to the problems. In this case, President Muhammadu Buhari has acted promptly and his government took appropriate action to restabilise the system," Dr. Nwankwo said.
The DMO DG described debt as a necessity for development and a global phenomenon. He dismissed the notion that Nigeria has an unhealthy debt stock, saying: "Debt is not necessarily bad. That is why the USA, which is the biggest debtor in the world, is also the strongest economy. How much a state or the Federal Government owes is not the issue; what matters is debt sustainability – the size of your debt relative to your macro-economic activities.
"Nigeria's debt is sustainable. Our debt is among the lowest in the world in terms of GDP ratio. In terms of ratio, you find that we are not doing badly, but I admit that we need to do a lot of work to put our economy in better shape."
The workshop, which attracted online publishers from various parts of the country, educated participants on the stringent processes involved in approving loans for both the states and the Federal Government. It also dwelt on how DMO has sanitised the borrowing process since its establishment, ensuring that there has been no defaulting in debt repayment since 2007.
Apart from Dr. Nwankwo, who delivered the Keynote Address, other DMO top officials who delivered papers at the workshop included Patience Oniha, Director, Market Development; Dele Afolabi, Hannatu Suleiman, Director, Debt recording & Resettlement; Asmau Mohammed, Director, Strategic Programmes; and Head, Portfolio Management.