Green Climate Fund (GCF) consultations in the Caribbean have found a recent spate of destructive hurricanes is adding urgency to regional efforts enhancing climate resilience.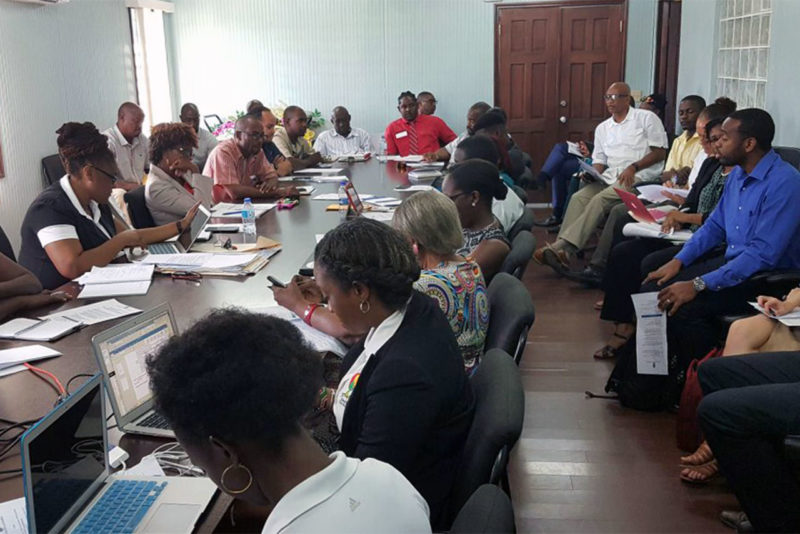 Recent meetings with GCF partners in Antigua and Barbuda, Dominica, Barbados, Grenada and Haiti have shown that progress is being made across weather-beaten Caribbean countries to coordinate their activities in addressing climate change.
This includes the further development of the Regional Proposal for Caribbean Management of Climate and Disaster Risks, a key outcome of the GCF Structured Dialogue focusing on the Caribbean held in Belize in June, 2017.
This regional proposal, led by Grenada and Antigua and Barbuda, is tapping GCF resources to enhance climate resilience across the region. This includes increasing the coherence of climate action by different Caribbean countries across various agencies and key sectors.
During the 10-day series of meetings which wrapped up on Tuesday, December 19, 2017, GCF staff spoke to a broad range of Caribbean partners, including Accredited Entities, National Designated Authorities and private sector leaders.
Wild weather, including hurricanes Irma and Maria, that smashed into numerous Caribbean countries in September caused deaths, crippled economies and exacerbated fears among many Caribbean citizens of future climate-induced storms and encroaching seas.
In Grenada, Fitzroy James, Director of Economic & Technical Cooperation in the country's Ministry of Economic Development, Planning and Trade, said increasing climate change concerns by Caribbean people accentuates the need to focus on boosting resilience at all levels.
"We need to build resilience to climate change at different levels – individual, community, national and regional – to take and influence actions to adapt to climate change," he said. Mr James also highlighted the opportunities during post-disaster rebuilding of introducing low-emission infrastructure, such as renewable energy and energy efficiency interventions.
Hailing GCF's country-led approach to climate finance, Mr James said it was necessary to "ensure that local climate action investments are driven by country priorities and are country driven."
A key theme of the GCF talks was the need to ensure finance reaches the grassroots to support mitigation and adaptation, including locally-based climate resilient projects.
Timothy Payne, the head of a local environmental organiaation in Antigua and Barbuda, said "funding is one of our major challenges." The Barnes Hill Community Development Association, which Mr Payne leads, is building local water resilience in the face of more unpredictable rainfall patterns.
The GCF consultations follow the launch of a public-private Caribbean Climate-Smart Coalition earlier in December aimed at ensuring post-disaster rebuilding includes financing for climate change mitigation and adaptation.
GCF has committed to help this initiative under the strategic leadership of Grenada, which is promoting the establishment of the world's first climate-smart zone. GCF assistance includes supporting long-term, transformative investments in the Caribbean and for capacity building and pre-feasibility studies for the proposed First Climate Resilient-Smart City in the Grenadian capital of St. George's.
In addition to $102 million in approved GCF funding for the Caribbean, regional projects in the GCF pipeline for funding consideration amount to more than $500 million.
Ayaan Adam, Director of GCF's Private Sector Facility and GCF delegation head, said the Caribbean meetings will help push forward climate finance plans in the region into proposals that GCF can implement in 2018. She said there was strong potential to support a number or areas, including climate information services and early warning systems, increased resilience, ecosystems, smart cities and low-carbon solutions.
"We have been encouraged by the enthusiasm of the Caribbean public and private sectors and civil society to come together and respond positively to the destructive forces of climate change," Ms Adam added.