According to Clean Air Fund, a philanthropic initiative tackling global air pollution, the rate of exposure to dirty air is increasing with urbanisation and slums.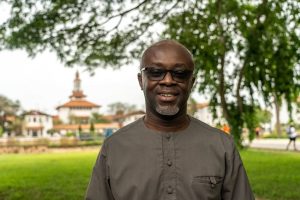 The burning of fossil fuel, poor management of organic waste, poor public transport systems, unsustainable agricultural practices and inefficient household energy use are contributing to dirty air.
The most vulnerable people are always hardest hit. Improvements in air quality would help to prevent the 1.2 million deaths resulting from exposure to fossil fuel-derived air pollution in 2020 alone.
Findings from the Climate and Clean Air Coalition's Africa integrated assessment on air pollution and climate change – released during COP27 – have shown that by prioritising air pollution along with climate change solutions, governments could unlock a raft of health, environmental and economic benefits for their citizens.
Ghana Country Lead at Clean Air Fund, Desmond Appiah, observed the level at which non-communicable diseases are increasing is astronomical. These diseases include diabetes, lung and heart conditions.
He therefore believes it has become imperative to highlight climate change issues from the heath perspective.
"The sources of greenhouse gas emissions are virtually the same as sources of air pollution. However, the advantage we have is that if we invest in air pollution prevention, we get the whole benefit of improvement in health," Desmond noted.
Governments are therefore to recognise an economic opportunity to use action on clean air as a catalyst for sustainable growth, which also helps mitigate and adapt to climate change.
The fossil fuel phenomenon
The burning of oil, gas, and coal causes 7 million premature deaths a year around the world through the bad air that people must breathe. The burden falls mostly on the poor.
Both air pollution and climate change are mainly caused by burning fossil fuels, so many of the solutions are the same.
The State of Global Air Quality Funding Report 2022 indicates governments, banks and donor agencies committed 36 times more money to fossil fuel –prolonging projects in Africa than clean air measures in 2015-2021.
A new report by the World Bank indicates trillions of dollars are wasted on subsidies for agriculture, fishing and fossil fuels that could be used to help address climate change instead of harming people and the planet.
The report, Detox Development: Repurposing Environmentally Harmful Subsidies, notes that government subsidies of $577 billion in 2021 to artificially lower the price of polluting fuels, such as oil, gas, and coal, exacerbate climate change, and cause toxic air pollution, inequality, inefficiency, and mounting debt burdens.
Redirecting these subsidies could unlock at least half a trillion dollars towards more productive and sustainable uses.
"With foresight and planning, repurposing subsidies can provide more resources to give people a better quality of life and to ensure a better future for our planet," said Richard Damania, Chief Economist of the Sustainable Development Practice Group at the World Bank.
Toxic air disproportionately affects the most vulnerable, so addressing it will reduce health inequalities. And because it severely hampers productivity, cognitive performance and wellbeing, initiatives that clean the air will provide economic benefits.
Appiah emphasised the need to invest in clean air solutions to drive sustainable development.
"We need pathways to healthy and sustainable development, which will decrease damage to health, improve economic and social impacts, improve air quality and reduce greenhouse gas emissions," he said.
By Kofi Adu Domfeh