Some 25 million trees planted, 53,000 hectares brought under restoration, 700,000 people reached. This is the balance of five years of regreening drylands in the Sahel and the Sahara by an innovative Food and Agriculture Organisation (FAO) restoration scheme called Action Against Desertification. For the coming 10 years, it is gearing up to restore a yearly one million hectares of degraded land in Africa's arid zones.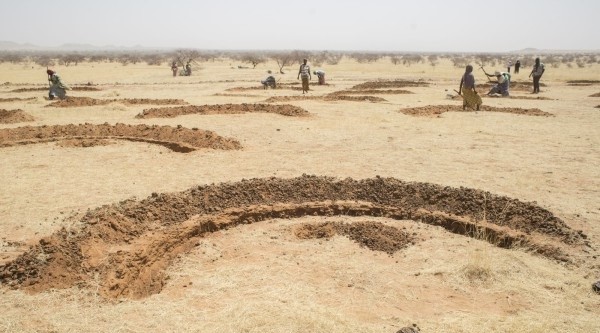 The 2019 World Day to Combat Desertification appears to be a reminder of the grave challenges posed by desertification and climate change. According to a 2018 IPBES report, over three billion people are affected by land degradation. The report calls combatting land degradation "an urgent priority in order to protect the biodiversity and ecosystem services that are vital to all life on Earth and to ensure human well-being".
The month of June is also the start of the rainy season across drylands in the Sahel and the Sahara. Planting has begun in areas that most people think are so dry nothing will ever grow there.
"FAO has been working for years to make barren land green and productive again," says Moctar Sacande, in charge of Action Against Desertification. "We have shown that land degradation is not yet irreversible."
During this year's planting season, Action Against Desertification will help to bring an additional 15,000 hectares of degraded land under restoration. With these efforts, FAO is supporting the Great Green Wall initiative, Africa's flagship programme to combat desertification and climate change.
Action Against Desertification, an initiative of the African, Caribbean and Pacific Group of States (ACP) with funding from the European Union (EU) and additional financing from Turkey, operates in 11 countries – Burkina Faso, Eritrea, Ethiopia, Fiji, Gambia, Haiti, Mauritania, Niger, Nigeria, Senegal and Sudan.
In five years, it has covered 53,000 hectares of degraded agro-sylvo-pastoral lands, where 25 million trees combined with grass species have been planted, benefitting 700 000 people in low income rural communities.
Expanding Africa's Great Green Wall
This remarkable success is based on an innovative approach that puts people at the heart of restoration. First tested in Burkina Faso, Mali and Niger, the approach was gradually expanded and refined as spots of green started to spread across the driest parts of Africa. Now, it provides FAO with a blueprint for large-scale dryland restoration in Africa and beyond.
FAO is placed to play a key role in the upscaling of restoration efforts, ensuring that they make an impact in rural communities all over the world, whose livelihoods depend on the health, productivity and the resilience of the land and forests around them.
Together with the United Nations Environment Programme (UNEP), FAO will lead the recently declared 2021-2030 UN Decade on Ecosystems Restoration. At the same time, FAO's longstanding involvement in promoting best practices in drylands restoration is bearing fruit – and Action Against Desertification is one of the most tangible outcomes.
Moctar Sacande is confident that a big leap in dryland restoration is possible. "We have been getting warmed up," he says, looking back. Sacande explains that Action Against Desertification's ambition for the coming ten years is to restore 1 million hectares of degraded land per year in 22 African countries, benefitting two million rural households.
Recently, operations were expanded to Eritrea, Mauritania and Sudan, with financial support from Turkey. Several other countries have expressed their interest to participate, including Algeria, Cameroon, Chad, Ghana, Mali and Morocco. At the same time, efforts are underway to export the large-scale restoration approach to arid zones in southern Africa, such as the Kalahari-Namib drylands and the Miombo and Mopane dryland forests.