The Delta State Commissioner for Works, Chief James Augoye, has warned residents of Asaba and Okpanam communities to desist from indiscriminate dumping of waste on the waterways.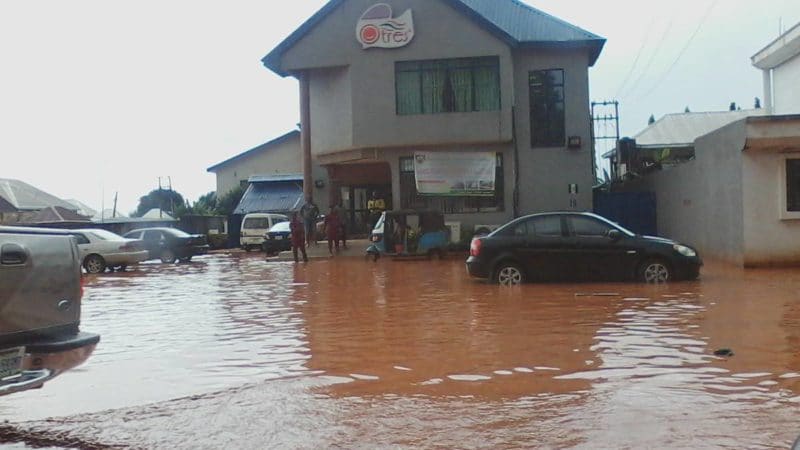 The commissioner gave the warning while responding to questions on the challenges of flooding in the state capital on Wednesday, July 18, 2018 in Asaba, the state capital.
He said that the state government was committed to addressing all flood-related challenges in Asaba, Warri and other flood-prone areas across the state.
Augoye said that government had embarked on three strategic storm water projects in Asaba.
The commissioner said that the challenge of flooding in the state capital would soon be addressed after completion of the project in February 2019.
Augoye said that the current flooding challenge was not only caused by the quantum of flood water from rainfall but the indiscriminate dumping of waste by the residents of Asaba and Okpanam communities.
He said that with the rainy season, the challenge would not be over yet until the storm water projects were completed.
Augoye said that road constructions and drainage works were ongoing at various corners of Asaba in addition to the dualisation of Okpanam road among others
He said that it was not strange that the rain on Monday and Tuesday this week had disrupted activities in the area.
According to him, the government is on course with the ongoing storm water projects in Asaba and is determined to make the drains effective to evacuate flood waters in the state capital.
"The governor in his quarterly briefing had said that the storm water projects will not have much effect this year until 2019 when they will be completed.
"Apart from the high volume of water particularly from the Okpanam axis to Asaba, the challenge we have is with the people who dumped waste indiscriminately into the water channels.
"The people have turned the drains to refuse dumps. This is creating a serious problem to us,'' the commissioner said.
He, however, assured that state capital would be cleaned up within the week to make it presentable, as the contractors handling the roads and drainage channels were working into the nights.
"We are sure that before the contingents for the African Senior Athletics Championship will start arriving the state, Asaba shall be cleaned up and made presentable," Augoye said.
He said that the state government had granted approval for the construction of two pedestrian bridges; one at the Summit Junction and the other at the Abraka Market in Asaba.
According to the commissioner, the modalities are being worked out and the contractor will soon commence work on the pedestrian bridges.
By Ifeanyi Olannye