Chairman, Taskforce on implementation of ban on illegal mining and deforestation in Taraba, Brig.-Gen. Jeremiah Faransa (Retired), said it had secured conviction of 46 persons for violating environmental law and illegal mining in the state.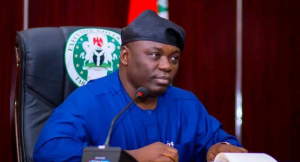 Faransa, who stated this while addressing newsmen on Thursday, August 3, 2023, in Jalingo, the state capital, said that the conviction was carried out by a Mobile Court against the culprits, for illegally felling and processing trees from different parts of the state as well as illegal mining.
According to him, 39 were convicted for illegal cutting of trees, seven for illegal mining.
He said that government had suspended all logging and mining activities in the state, pending the production of guidelines.
Faransa said that the Taskforce had already visited most of the mining sites in the state, and discovered serious infractions in the mining operations.
He said that the Taskforce had also impounded over 100 trucks carrying different kinds of wood out of the state.
"Adequate sensitisation has been made on this new policy and whoever claims ignorance, will face the full wrath of the law because ignorance of the law is not an excuse.
"We have a mobile court which is a court of summary jurisdiction and the full weight of justice shall be applied to the offenders.
"Already those who had been convicted are provided with an option of fine or will go to jail," Faransa said.
He expressed concern over the degree of ecological degradation occasioned by mining and login activities, adding that such was inimical to the environmental wellbeing of the state.
The chairman who insisted that the law must take its course, warned perpetrators to desist from the act.
He called on investors coming into the state to carry out their operations in line with global best practices.
Mallam Umar Tukur, one of the truck drivers arrested by the taskforce, said that he was not aware of the ban by the state government.
He said that his truck had been impounded for over one week and he appealed to the government to resolve the situation amicably.
The Taraba Government in June inaugurated a 17-man Taskforce to implement the ban on Illegal mining and unauthorised felling and processing of certain trees.
By Martins Abochol