The Minister of Environment, Mr Mohammed Abdullahi, has given assurance of more support from his Ministry to the National Park Service (NPS) for efficient performance in its duties.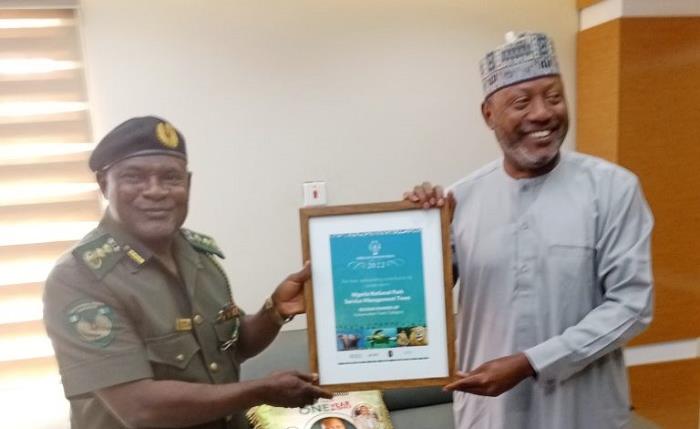 Abdullahi gave the assurance at the NPS's presentation of some international awards won by the Service, to him on Tuesday, January 17, 2023, in Abuja.
He assured the officers of the Service of his ministry's support in the area of better equipment, trainings and orientation.
"I know that the officers are faced with danger and their lives are being threatened in most places due to the hazards of the job," Abdullahi said.
The Minister commended the NPS for the outstanding awards and performances in spite of the limited resources within their reach.
He added that the awards were certainly testimonies of their hard work.
"There is an unrelenting commitment to achieving the core objectives for which the National Park Service is set up over the years.
"Therefore, it is no gainsaying that the Service has taken its rightful position in the comity of conservation enclaves across the globe and has successfully written its name in gold in the international arena.
"I also want to use this occasion to call on spirited individuals and organisations to come to the aid of the National Park Service," Abdullahi said.
He said aid could be given by donating projects and programmes that would foster conservation and ecotourism in national parks across the country.
The Minister thanked President Muhammadu Buhari for always prioritising the programmes and activities of the Ministry whenever the need arose.
Dr Ibrahim Goni, the Conservator General (CG) of NPS, while presenting the three international Conservation Awards from 2018 to 2022, commended the Minister for the support given to the Service which enabled it to achieve the feat.
The three awards are the 2018 African Ranger Award, Wildlife Ranger Challenge Award and the Service Management Team award.
Goni said that the Service emerged 2nd runner-up out of the 80 nominations across Africa for the African Ranger Award under the category "Best Conservation Team in Africa".
"The contest involved 88 teams from 20 African countries in a 21-kilometre marathon race," the CG said.
By Abigael Joshua