At least 375 people are now known to have died after a powerful storm struck the Philippines over the weekend.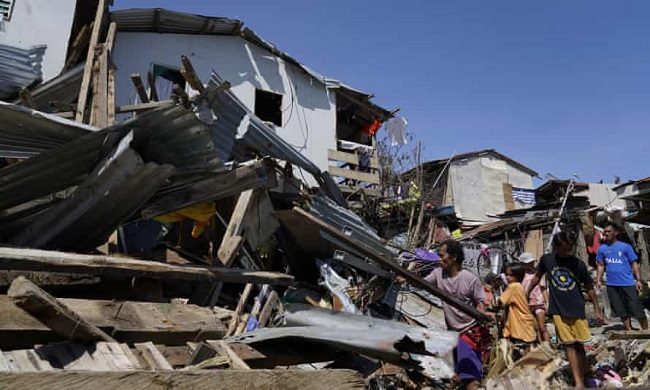 Super Typhoon Rai – with winds of about 195km/h (120mph) – sent some 400,000 people running for safety when it hit the country's south-eastern islands.
At least 500 people were injured, and 56 others have been reported missing by local police.
Typhoon Rai's (locally named Odette) heavy rains sustained winds causing flooding that displaced thousands and led to hundreds of casualties.
Typhoon Rai is the 15th major weather disturbance to hit the Philippines this year and is classified as a super typhoon due to sustained winds of 120 miles per hour and gusts of up to 168 miles per hour — a designation similar to a Category 5 hurricane in the United States. The typhoon is currently moving over the sea on a path towards Vietnam, bringing with it heavy rains.
"As emergency response and relief efforts are currently underway, the full extent of this tragedy is yet to be seen. However, the science is clear: Climate change has supercharged the frequency, duration and intensity of tropical storms such as Super Typhoon Rai," submitted 350.org.
Norly Mercado, 350.org Asia Regional Director, stated: "As we bear witness to the devastation that Typhoon Rai has brought upon seven regions in the Philippines — a week before Christmas — we offer our solidarity with the communities affected, while at the same time joining the call to rally support for those who are working tirelessly to provide relief during this disaster.
"We refuse to accept a future of climate-induced disasters exacerbated by world leaders that are vacillating on true climate solutions that would help vulnerable countries to thrive amidst this ongoing crisis, especially as we are still trying to rise from the COVID-19 pandemic.
"This is a time to be decisive: governments and financial institutions cannot stand by and continue business as usual while the most vulnerable communities perish in storms that are supercharged by climate change, leading to circumstances that potentially increase their exposure in a pandemic.
"This can only happen if economic stimulus is rerouted towards ensuring resilience for future crises and invested into renewable energy solutions, especially those that are locally-owned and controlled. Energy, along with water, food and shelter, becomes a rare commodity in humanitarian scenarios such as what we have just experienced in the Philippines."
Rescue teams have described scenes of "complete carnage".
But establishing the scale of the losses is difficult, as communication to several areas has been cut off.
There are fears widespread landslides and flooding may have claimed more lives.