The rain may have stopped, but South Carolina is grappling with a host of new concerns. Dam breaks. Billions of dollars in damage. And rivers that still haven't crested.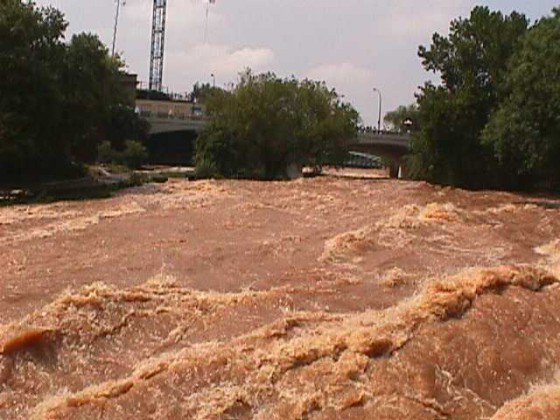 "God smiled on South Carolina because the sun is out," Gov. Nikki Haley told reporters on Tuesday afternoon. "That is a good sign, but I will tell you that for us, we still have to be cautious. The next 36 to 48 hours are going to be a time that we need to continue to be careful."
Haley declined to provide an estimated cost of the damage – which she called "disturbing" – but said state and Federal Emergency Management Agency officials were making assessments.
"It's hard to look at the loss we're going to have," she said. "This could be any amount of dollars."
More than 400,000 state residents were under a "boil water advisory" affecting about 16 water systems, according to Jim Beasley, a spokesman for the S.C. Emergency Response Team.
At least 11 dams have failed in South Carolina since Saturday, Haley and the state's Emergency Management Division said. The structural integrity of 34 other dams was being monitored.
One failure, of the Overcreek Bridge dam in Richland County's Forest Acres, sent a torrent of floodwater raging downstream and forced evacuations near Columbia.
Officials allowed water to breach at least one other dam, also in Richland County. Officials conduct these controlled breaches "to prevent a much larger incident and a much larger amount of water escaping from the dam," emergency management spokesman Derrec Becker said.
Haley said National Guard members were assisting with sandbagging operations and other mitigation efforts. "It's all hands on deck," she said.
More evacuations are likely as floodwater rises.
So far, at least 17 people have died in weather-related incidents: 15 in South Carolina and two in North Carolina.
At least nine people drowned and six died in traffic accidents, South Carolina's Department of Public Safety said.
North Carolina reported two deaths from traffic accidents, in Cumberland and Jackson counties, a state emergency management spokeswoman said.
Haley said there had been 175 water rescues so far in South Carolina, and more than 800 people were temporarily housed in shelters.
More than 70 miles of Interstate 95 in the state remained closed, with five to eight bridges still awaiting structural checks, she said.
Of all the scenes of items drifting away in the flooding, perhaps none appeared as dramatic as a casket unearthed from a cemetery.
Wayne Reeves, pastor of New Life Ministries in Summerville, was in the middle of an interview when he saw the casket float away.
So he headed into the waist-deep floodwater to retrieve it.
By Holly Yan and Ray Sanchez, CNN