A coalition of civil society organisations (CSOs) has approached the Nigerian government to propose ways and seek partnerships on how to cooperatively work together in the implementation of the African Activists for Climate Justice (AACJ) project across Africa.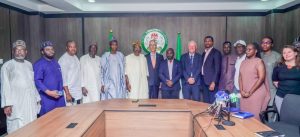 Through this partnership, the group hopes to give Africans a stronger voice and guarantee that they are appropriately included in the global dialogue on climate change.
According to the alliance, Africa is the most affected by climate change. This, they explained, was what inspired the idea for the AACJ campaign, a €50 million, five-year Dutch government-funded project that would be implemented in eight African countries to increase awareness and seek climate justice for their people.
Due to their misunderstanding of the subject, the group grieved that many Africans still regard the issue as a myth or something beyond human comprehension. They observed that these people do not understand how to link some of the most common security concerns, such as farmer-herder clashes, that are commonly encountered, particularly in Nigeria, to climatic instability.
"We have contributed as little as 3% to the global climate crisis," says Kenneth Akpan, the Nigerian coordinator for the AACJ project, emphasising the importance of putting Africa first when making climate change decisions.
Akpan added that his team is happy to collaborate with the Nigerian government to help the nation fulfil its National Determined Contributions (NDCs) targets during a courtesy visit led by Oxfam Nigeria to the Minister of State for Environment in Abuja.
This, he continued, is because the government cannot carry out these duties independently; rather, everyone must be involved in developing responsibility and aiding them in understanding and fulfilling their part in carrying out the agreement.
According to Akpan, the project started in Nigeria in 2021 and has already made some significant progress. A few of the campaign's accomplishments include influencing lawmakers to pass the Climate Change Act 2021, mobilising and educating the public about community development, and inspiring a group of young attorneys to take on the role of climate change activists.
He wrapped up by noting that, as part of their effort to accelerate the scheme, his group is looking into working with Nigerian legislators to improve their capacity to successfully make the appropriate policies to help the country achieve its climate goals.
In a similar spirit, Mr. Benson Simba, head of the programme management unit for the AACJ project, admitted that Africa requires assistance in order to address its climate concerns, especially how to adapt to its adverse effects.
Simba believes the Nairobi Declaration, a product of the just-concluded African Climate Summit hosted by the Kenyan government, represents Africa's priorities, particularly the emphasis on loss and damage.
This is something he wants Nigeria's Environment Minister and his colleagues in other African countries to keep in mind as the globe prepares for this year's global climate change conference, which will take place in Dubai from November 30 to December 12.
"We continue to request that you and the other governments in Africa look at addressing these in line with the countries where we are working; we do look at community adaptive innovations," he added.
He also feels that land rights, environmental justice, and climate financing are important concerns for Africa and should be addressed in the global climate change conversation.
Simba emphasised that his organisation, Pan African Climate Justice (PACJA), has developed a number of solutions, particularly in agriculture, to help people in need adapt to climate change.
Nigeria is one of the ten nations in the world that is most vulnerable to the negative consequences of climate change, according to Dr. Izaiq Salako, the nation's minister of state for the environment.
As a result, he expressed his profound gratitude to the Dutch government for supporting the AACJ initiative, particularly for the initiatives they are carrying out in Nigeria. He gave them the assurance that the government would continue to support them as they worked to achieve their goals.
"The Federal Ministry of Environment is very happy to continuously partner with the Netherlands, activists, and, of course, our stakeholders within the environmental sector," he said, emphasising the importance of engaging with people on a regular basis so that ideas can cross-pollinate in order to properly address climate change.
One decision that the minister stated he made upon taking office is that his door is open to any stakeholder within the environmental community who wishes to visit him because environmental concerns are citizen-oriented, and government efforts will have no influence if the people are not carried along.
Michael Terunqwa, executive director of the Global Initiative for Food Security and Ecosystem Preservation (GIFSEP), one of the AACJ project's implementing partners, commended Oxfam Nigeria for supporting his organisation in carrying out the project in the country.
He explained that GIFSEP is focused on assisting vulnerable communities in building resilience to climate change. And, since the project's inception, his establishment has been working to ensure that every community in the country has a climate risk register.
The goal of the register, he continued, is to understand the climate risks that exist in those communities and to have an understanding of what efforts may be taken to mitigate them.
This is one of the things he stated his outfit has been doing, which began in Nasarawa State and is now moving to Adamawa State.
Imagine if every community in Nigeria had a record of climate risks, he said, adding that "this is where adaptation starts."
By Etta Michael Bisong, Abuja