A coalition of 19 civil society organisations (CSOs) on Friday, May 28, 2021 stormed the Lagos State House of Assembly in protest of the rising cases of insecurity in the country.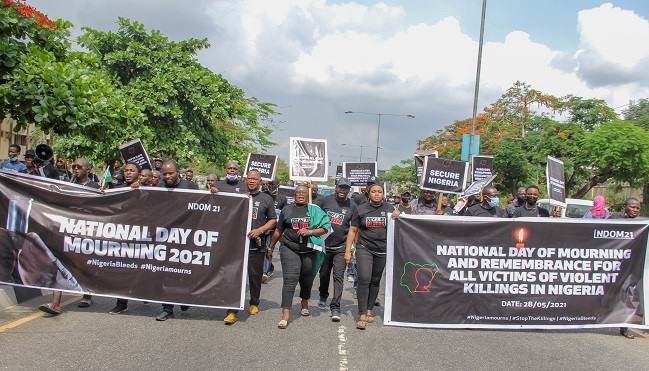 The demonstration, which was to register Nigerian's displeasure with the incessant cases of insecurity in the country, was convened by Corporate Accountability and Public Participation Africa (CAPPA) in conjunction with 18 other groups including the Nigeria Labour Congress (NLC).
Tagged National Day of Mourning (NDOM), the demonstration according to the groups was to commiserate with victims of bandits, Boko Haram and unknown gunmen, and to demand accountability in the provision of security from President Muhammadu Buhari, who is the Commander-in-Chief of the Armed Forces.
The group demanded that the Lagos Assembly convene an emergency session to deliberate on the deteriorating state of security in the country.
The protesters, who marched from Ikeja Under Bridge down to the Lagos State House of Assembly, expressed their displeasure with President Buhari following his failure to adequately protect lives and properties.
Welding placards with different inscriptions calling for an end to the growing insecurity in the country, the protesters at the State Assembly delivered a petition to the Assembly which was received by a delegation of the House, led by Deputy Speaker, Sanni Eshinloku.
Part of the demands of the group was for the Assembly to hold a joint session with federal representatives from Lagos to come up with a unified position on the state of security in Nigeria.
They asked the lawmakers to commence citizen engagement from their constituencies on specific security challenges with the view of proffering solutions to the country's lingering security challenges.
Also demanding that the government suspends plans to introduce anti-people policies, the groups said new policies like fuel price hike and electricity tariff hike could worsen the plight of many Nigerians who are already wallowing in poverty.
Executive Director of CAPPA, Akinbode Oluwafemi, while speaking at the protest, said the decision of the groups to mark the day of mourning in Lagos was because of the role of the state in the growth of democracy in Nigeria.
Stating that democracy grew and germinated in Lagos, Mr Oluwafemi said that Lagos must stand up and be counted amongst the states that proffered solutions to the country's deteriorating security situation.
"It is time for us first to mourn the lives of people that have died, and to also wake the government from slumber, this cannot continue. And we are significantly doing this in Lagos because, for Nigeria to be liberated, Lagos must be liberated," Mr Oluwafemi said.
By Ayomide Emeka Joseph