If the data from the Debt Management Office (DMO), which pegged Nigeria's public debt at N87.3 trillion as of June 30, 2023, is to be taken seriously, then the request made by a group of 55 civil society organisations (CSOs) asking for debt relief to address Nigeria's climate challenges is wholly justified.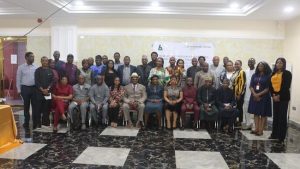 Nigeria, like many other African countries, is warming faster than the rest of the world. This body of environmental rights campaigners that came together under the auspices of the Network for Debt, Development, and Climate Change (NDDCC) wants this alarming and potentially fatal scenario tackled to ensure climate justice across the region.
According to a 2022 assessment by the International Monetary Fund (IMF) on the financial situation of more than half of Sub-Saharan Africa's low-income countries, Nigeria was listed alongside 10 other nations in the Economic Community of West African States (ECOWAS) as being at high risk of or currently in a debt crisis. This is a devastating trend, which advocates claim has slowed sustainable economic growth.
Reflecting on the issue on Monday, October 16, 2023, at a stakeholder engagement organised by the African Network for Environment and Economic Justice (ANEEJ) in collaboration with NDDCC and supported by the Heinrich Böll Foundation in Abuja, they concluded that Nigeria has a key role to play in global politics because of the continent's climate and debt crisis.
Rev. David Ugolor, executive director of the Africa Network for Environment and Economic Justice (ANEEJ), said: "The government of President Ahmed Bola Tinubu should position Nigeria to play this leading role."
The country's large debt load is a difficult hurdle to progress towards the Sustainable Development Goals (SDGs) and Paris Climate Agreement obligations, which is why he thinks this call is critical.
"It is essential that we address this issue urgently under the lens and voice of climate justice and push for debt relief for green climate solutions," the ANEEJ boss added.
In the same vein, Dr. Salisu Dahiru, the director general of the National Council on Climate Change (NCCC), admitted that, based on the findings of the Intergovernmental Panel on Climate Change (IPCC), Africa is warning quicker than the rest of the globe.
The DG, who was represented at the event by one of the council's workers, also acknowledged that numerous implementation gaps are impeding Nigeria's achievement of the 1.5 degree Celsius emission reduction target, pointing out that much work remains to be done to fill them in accordance with the Paris Agreement, which talks about shared but differentiated responsibility.
Although science has proven that Nigeria's greenhouse gas (GHG) emissions are low, he said this doesn't mean that the country should continue to emit. As a result, the government is concentrating on finding effective ways to genuinely shift its implementation from carbon-intensive to low-carbon-intensive in order to assist citizens in adapting.
He went on to say that Nigeria is considering phasing down and that they are looking to developed nations to establish a timeline for when some of their carbon-intensive industries will be phased out, emphasising that the government will continue to make commitments and use what is currently available to ensure the country's energy security and fight poverty.
According to him, the government is looking at green investments despite the fact that the country has made significant efforts in this area. This is because when it discusses implementation, it is referring to finance and technology, as well as the development of capacity to guide the process.
In his words, Nigeria is not going to the forthcoming Conference of Parties (COP28) to beg; rather, it will submit these efforts at the meeting in Dubai to demonstrate the significant resources the country has dedicated to making sure its economy is green.
He emphasised that Nigeria's GHG emissions are quite low and pledged that the country will continue seeking aid to help it fulfil its NDC mitigation targets and emission reduction goals.
The operationalisation of the loss and damage funds and the various mechanisms to make it possible to drive climate action, he said, are two things that Nigeria is looking forward to because a lot of effort has been made in this direction.
"This is what we are doing, and we really need your support to drive the process of ultimately achieving our climate action," he stated.
The conversation came to a close with an admission that the voices of developed governments and corporations dominated the African Climate Summit that was held in Nairobi, the capital of Kenya, drowning out the views of communities and individuals impacted by carbon pollution.
In light of the foregoing, the group developed an 11-point agenda that they feel will help in the resolution of this challenge, with particular emphasis on a review of debt sustainability analysis that takes climate and poverty into account rather than just debt to GDP or debt to revenue measures.
By Etta Michael Bisong, Abuja