Cross River State, home to the largest remaining rainforests of Nigeria, is fast losing its prized asset.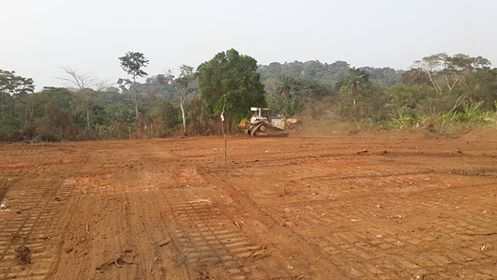 Over a million hectares of pristine forest that had largely remained unexploited is now under considerable threat, if recent submissions are anything to go by.
Nigeria REDD+ Stakeholder Engagement Specialist, Tony Atah, disclosed that the hitherto jealously guarded vast forest land is fast disappearing.
REDD+ stands for countries' efforts to reduce emissions from deforestation and forest degradation, and foster conservation, sustainable management of forests, and enhancement of forest carbon stocks.
Attah disclosed in a presentation on Thursday, April 26, 2018 in Lafia, Nasarawa State, during the High Level Stakeholders Sensitisation Workshop on National Forest Inventory that, between 2007 and 2014, the annual rate of deforestation in Cross River State stood at 23,911 hectares (ha) (2.95%), while the net forest loss was 39,907 ha.
Previously between 2000 and 2007, the annual rate of deforestation seemed much lower at 5,701 ha, even as the net forest loss was 39,907 ha.
"Over the two periods (2000-2007 and 2007-2014) annual rate of deforestation had risen from an average of 5,701 hectares (0.67%) to 23,911 hectares (2.95%)," observed Attah in his paper titled: "Drivers of Deforestation and Forest Degradation: Cross River State in perspective".
Cross River State hosted the pioneer site for the nation's REDD+ Programme under the UN-REDD Programme (United Nations Programme on Reducing Emissions from Deforestation and Forest Degradation), a collaborative programme of the Food and Agriculture Organisation of the United Nations (FAO), the United Nations Development Programme (UNDP) and the United Nations Environment Programme (UNEP).
According to Attah, forest loss to agriculture from 2000 to 2007 was some 77,148 hectares of forestland while between 2007 and 2014 125,355 hectares of forestland was lost to cropland.
"These figures are a compound aggregate for both subsistence and commercial agricultural activities," he explained, even as he listed the drivers of deforestation to include: economic causes, technological causes, policy & institutional causes, cultural causes, demographic causes, energy, mining/quarrying, infrastructure development and agricultural expansion.
He suggested ways to respond to the drivers of deforestation, saying that, for instance, the state's 30-year growth and development plan targets green investments across all sectors presents a much-needed succour.
He added that management plan developed to strengthen institutional arrangement for sustainable land and forest governance would go a long way in curbing deforestation, as well civil society supporting community-based actions to strengthen institutions, build livelihoods and elaborate land and forest management plans.
Most of all, he continued, REDD+ strategies, such as forest conservation and sustainable management of forests, can likewise address drivers of deforestation.