The Ikot Nkebre community in Calabar Municipality has decried the attack on contractors handling the erosion control project in the area.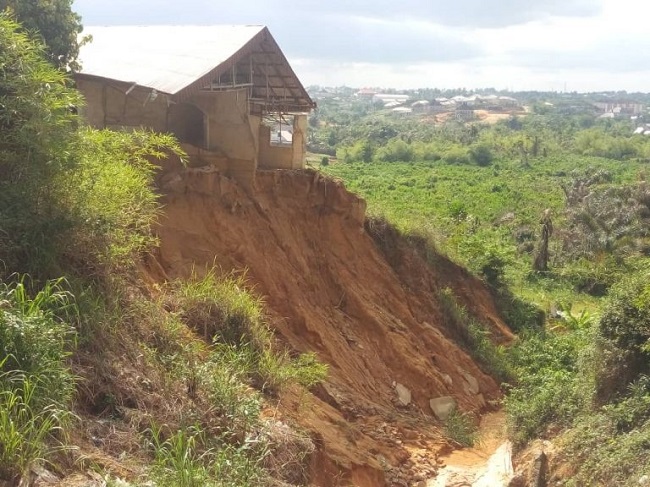 A cross-section of the natives said in separate interviews in Calabar, the state capital, on Monday, May 10, 2021 that the attack by miscreants had halted work on the project.
They feared that the rains might worsen the situation in the area, if the project got discontinued due to the activities of the assailants.
A member of the community, Mr Etim Edem-Effiom, described the attack as unwarranted, adding that the community youths and elders were disturbed by the unwholesome incident.
"We plead that those behind the attack on the contractors and workers at work should stop forthwith for the sake of this community.
"The contractors have recovered some areas that were totally washed off by the gully.
"They have done a good job so far and should be allowed to continue.
"Before now, over 40 buildings were swept away by erosion and some people died.
"The contractor came on board and helped some people to recover their houses that were threatened," Edem-Effiom said.
Edem-Effiom is also the Community Liaison Officer of Akpaven Integrated Services, the company handling the project.
Another member of the community, Mr Enang Effiom, said the gully, which started in 2017, had left at least three persons dead, with property worth millions of naira destroyed.
Effiom said that it was wrong for hoodlums to attack workers at a project site, when natives were anxious to have the job completed before the rains fully set in.
"If they don't anchor this erosion channel properly, what happened before will repeat itself. "Whosoever is behind the attack should have sympathy for this community," he said.
Mr George Brown, the Project Director of the company, said that work on the entire project had reached 95 per cent completion, with only the remediation work left.
Brown said: "We had some invasion from hoodlums about three weeks ago.
"They came on the pretext that we were not paying mining levies.
"From our records and the interactions we have with relevant tax agencies and consultants, we have paid all levies accruable to the state upto April.
"We have updated all our revenues but the faceless hoodlums came in on the pretext of revenue.
"The state Internal Revenue Service or any other agency of government has not come to seal our site over tax default.
"On the day the hoodlums struck, national officials from the Nigeria Erosion and Watershed Management Project came to our facility.
"They beat up our workers and seized our trucks also," Brown said.
By George Odok