The World Health Organisation (WHO) has commended the Nigerian government on its COVID-19 vaccination uptake across the country.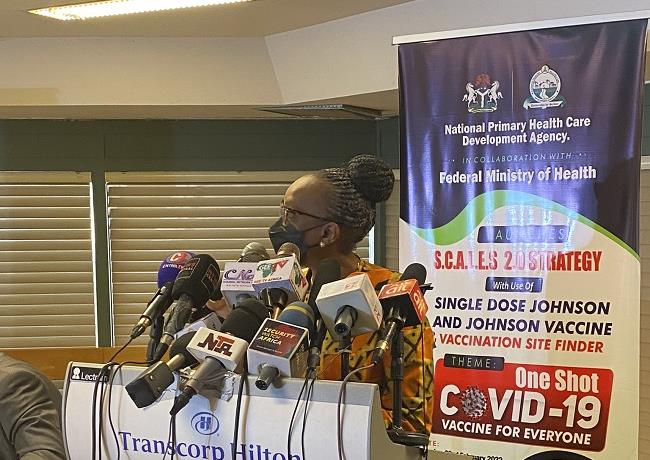 Dr. Matshidiso Moeti, Africa Regional Director, World Health Organisation (WHO AFRO), gave the commendation on Tuesday, February 22, 2022 in Abuja, at the launch of optimised S.C.A.L.E.S. strategy for COVID-19 Mass Vaccination in Nigeria, the Johnson & Johnson roll out and the vaccination site finder, organised by the National Primary Health Care Development Agency (NPHCDA).
In November 2021, NPHCDA introduced the S.C.A.L.E.S. strategy to rapidly ramp up COVID-19 vaccine coverage by expanding access to COVID-19 vaccines outside the health facility.
Mass vaccination sites have been established at all public places such as markets, parks, shopping malls, schools, mosques, and churches.
S.C.A.L.E.S. is an acronym for service delivery, communication, accountability, logistics, electronic reporting, and supportive supervision for the ongoing COVID-19 vaccination.
Although the S.C.A.L.E.S. strategy has proved to be quite effective in ramping up COVID-19 vaccination coverage, the proportion of fully vaccinated Nigerians is still very low, partly because "we have been using two-dose vaccines".
Moeti recognised that the country had done a great job, vaccinating over 200,000 Nigerians everyday.
"We hope that Nigeria achieves its target of vaccinating 600,000 eligible population everyday.
"If Nigeria can do it, then we know that Africa can do it," she added.
She added that, like other countries have learnt lessons about how to leverage capacities on the COVID-19 vaccines delivery, so Nigeria had done.
Moeti also commended the government and donor partners for taking these on board in the S.C.A.L.E.S. 2.0 strategy in the country.
"I understand there's going to be a great deal of emphasis on decentralisation on really leveraging the decentralised nature of the Nigerian system and governments to engage those who are decision makers at the state and local government levesl, so that they can drive a very much accelerated action that is needed to speed up delivery of vaccines to the population.
"There is also going to be the need to expand significantly the delivery capacity, because at the same time as the country is carrying out this very important Job, there is the other role in delivering other vaccines and other responses to public health emergencies, will be going on , and I'm very happy to understand that this deliberate attempt will bring on board additional capacities, partners strongly with other actors, the civil society organisations, and the private sector in order to optimise every capacity.
"We have seen in many countries in Africa, not only in Nigeria, people hesitating to take the vaccines, the world is engaging in a very new business," she explained, adding that "engaging communities, authorities must ensure that people understand the trust in the process that is going on."
She noted that reporting information is a journalist's top priority, but when providing context, perspectives, and potential solutions, they also have the chance to be constructive.
"By getting Nigerians on board, by giving hope, and having them realise they are part of the solution, the country will succeed in beating the pandemic together," she advised.
Dr. Omotayo Bolu, Country Programme Director, Immunisation, US Centre for Disease Control (USCDC), stated that the launching of the SCALE 2:0 is an affirmation of the country's readiness to ensure that all eligible Nigerians are reached with COVID-19 vaccines.
Bolu acknowledged that Nigeria needs to do more work to enable it achieve the target of vaccinating 600,000 persons per day.
Meanwhile, UNICEF Nigeria Representative, Dr. Peter Hawkins, said that the data of vaccinated people presented shows that the country had done considerably well in its mass vaccination programme.
According to Hawkins, "we must realise that all people are aware of COVID-19 and need to protect themselves, their communities and the country. No one is safe until we all are safe."
By Abujah Racheal