Professor of Virology, Oyewale Tomori, says Nigeria's COVID-19 data are generally incomplete and outdated, constituting a disservice to public health response.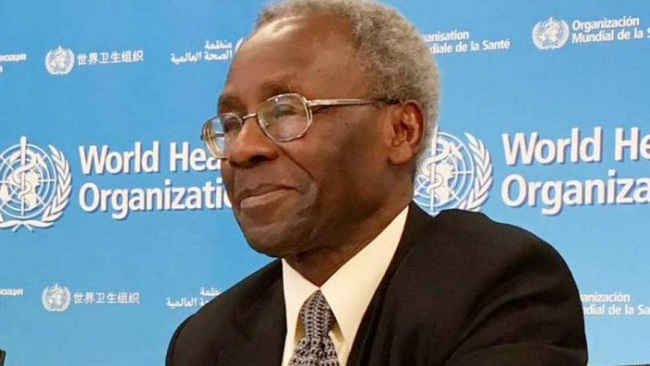 Prof. Tomori, former Vice-chancellor of the Redeemers University, Ede, said on Monday, January 9, 2023, in Abuja, that such data were misinterpretation, misinformation and ingredients of poor public health response.
He said that specifically, incomplete and outdated data on COVID-19 meant the country would only have faint knowledge of the magnitude of the epidemic.
"This goes for other diseases of which we have unreliable data," he explained.
He wished that Nigerians had more and better-analysed data on disease outbreaks such as COVID-19, among others.
"According to the Nigeria Centre for Disease Control and Prevention (NCDC), Nigeria recorded 35 new COVID-19 cases from Dec. 24-30, with 22 in Abuja and 10 in Lagos State.
"Given that Abuja and Lagos are the main entry points for passengers flying into Nigeria from different parts of the world and given the current upsurge of COVID-19 cases in China, It would have been helpful for the NCDC to provide more details.
He said such details should focus, especially on the travel histories of the 35 cases recorded in Abuja, Lagos and two other states.
"Were these cases recent inbound travellers to Nigeria; if so, from where did their journey begin? If these cases are not recent travellers from COVID-19 hotspots in the world, then the public will be more confident and better assured of the decision that there is no need for travel restrictions on China or travellers from China.
"The dynamic nature of the current epidemic in China, with China opening her borders to let in and let out travellers, does not permit us to wait a week to know how many cases we have in the country.
"It would be helpful to know how many inbound passengers to Nigeria are tested and how many of them are COVID-19 positive. This information appears to be a top-kept government secret," he explained.
Speaking on restrictions, the professor said that nobody was asking the country for travel restrictions, but experts were saying that all relevant agencies should enhance surveillance of incoming passengers.
"We must ensure that inbound passengers coming from China directly or through known transit stopovers are thoroughly screened on arrival, using Rapid Diagnostic Test (RTD), quarantine for all positives and monitoring of all negatives for one week," he said.
Another issue he raised was that the 35 cases were recorded between Dec. 24 and 30, 2022, noting that the data was more than a week old.
"The dynamics of the outbreak in China calls for more frequent and real-time data on the number of cases recorded in Nigeria.
"Remember there was a report from Italy where 50 per cent of inbound travellers from China arriving on two planes on the same day were COVID-19 positive.
"So, how many cases has the agency reported between that time and now, nobody knows. We will have to wait until the end of the two weeks (epidemiology week 2), ending on Jan. 15, 2023, before we know how many cases since the last day of 2022," he said.
"According to the NCDC, the sub-lineages partly responsible for the current increase in COVID-19 cases in other countries, (XBB.1.5 and BF.7) have not yet been detected in the country, though "BF.7 and XBB have been circulating in South Africa since October 2022."
According to him, the question is how many samples have been subjected to genomic sequencing between Oct. 22, 2022, and now?
"Our country has no less than six or seven laboratories with high-level capacity for genomic sequencing.
He said that one of them is a WHO Regional Collaborating Centre for genomic sequencing serving other African countries.
He questioned how well genetic sequencing activities is being coordinated in the country.
"We have always called for NCDC to adapt to become more of a coordinating than a controlling centre, so we can take full advantage of the genomic sequencing and other facilities we have in the country.
"For Nigeria to continue to send samples out of the country for genetic sequencing is a matter of national disgrace and shame.
"You will recollect that at the onset of the COVID-19-19 pandemic in Nigeria in 2020, it was said that we had only three or five laboratories capable of diagnosing COVID -19. True, we increased the number of laboratories rapidly and we now have over 100 such laboratories," he said.
He, however, said that a check on the NCDC website indicated that 60-70 of these laboratories regularly either do not carry out the tests anymore or do not report the results of the tests carried out.
"Did we have to build so many laboratories? Many states built laboratories that were incomplete, ill-equipped, and short-staffed, and these may have been responsible for the poor performance status of the labs built about a year ago.
"Building COVID-19 laboratories was another frenzy of contracts to siphon funds, demonstrating once again that we are a nation with a penchant and an eagerness for building the unsustainable.
"Let me illustrate with another example, according to our NCDC, in 2021, we reported 4,654 suspected Lassa fever cases, confirmed 511 of which 102 died. In 2022, we reported 8,202 suspected Lassa fever cases, confirmed 1,067 with 189 deaths," he explained.
According to him, more worrying is the fact that in 2021, we only confirmed 511 or (10.97%) as Lassa, and in 2022, we confirmed 1067 (13.00%) as Lassa fever.
He said that the question is what is the cause of the over 85 per cent of Lassa fever suspected cases? Noting that the country needs to improve, update and modernize the laboratory diagnostic capabilities.
Tomori said that the government could not effectively control any disease without the collaboration and full participation of the public.
"The public will only fully participate when it trusts the government and has confidence in the data issued by the government.
"Many government agencies take the public for granted and assume that only limited information should be provided to the public.
"These agencies leave enough gaps to be filled but fake information and news. It is to the advantage of all government and citizens, for government to provide complete and real-time information on disease outbreaks.
"This is the way to achieve the mutual trust and public readiness to cooperate with the government and fully participate in the roll out of public health interventions by the government," he explained.
By Abujah Racheal