Three non-profit organisations – Connected Development (CODE), BudgIT, and Global Integrity – have jointly launched a comprehensive user-friendly portal as part of the COVID-19 Transparency & Accountability Project (CTAP) strategic work-plan to track and provide citizens with evidence-based information on how the $51 billion intervention funds in Africa is being spent.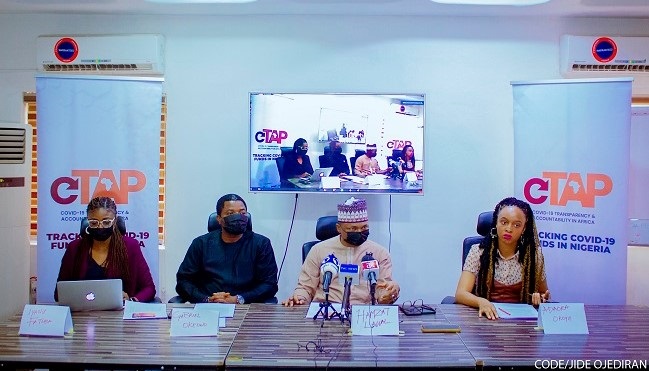 Unveiled on Monday, July 5, 2021 during a media briefing in Abuja, the website has flexible navigation and functionality that allows visitors to access every information on COVID-19 in Africa, including intervention resources, funds allocation, palliatives distribution, accurate number of cases, vaccine management, as well as government responsiveness.
The overall goals of designing the website, according to the anti-graft advocates, are to increase citizens' use of data to advocate and engage the government in a manner that promotes transparency and accountability, and deepen the call for open governance across the continent.
Information on the platform analyses post-COVID-19 socio-economic environment and its inimical impact on marginalised communities. It also contains data showing supposed government's poor responsiveness in the distribution of palliatives and cash transfer, how the pandemic has further compounded the substandard health care system, vague procurement processes, and obvious corruption by government officials.
Facts on other overreaching discrepancies observed during the process revealed how the lack of transparency and accountability by the government impedes the implementation of standard policies.
"This is clearly manifested in the inability of social accountability activists to access accurate data of funds received and disbursed by their government to tackle the pandemic," said Hamzat Lawal, the Chief Executive Officer of CODE.
Lawal, who condemned the show of shame by government officials, added that several sources at the local assembly-level revealed to the CTAP team that the very poorest in their various communities never benefited from initiatives that were broadly distributed.
However, the rights campaigner reinforced some hope when he disclosed that the level of awareness and demand for accountability by citizens increased due to the incessant use of the media to expose discoveries of misappropriations, embezzlements, and lack of preparedness by government institutions.
He narrated that the project has inspired and increased citizens' engagement with issues of government's transparency, accountability, and zero-tolerance for corruption in some countries since the commencement of the exercise eight months ago.
Therefore, he urged citizens to utilise the new platform to access and engage their governments with evidence-based information to ensure transparency and accountability in all government spending.
"We believe this is also an opportunity for Africa governments to improve communication with citizens and adopt progressive governance mechanisms in advancing transparency and accountability, as well as regaining citizens' trust," he submitted.
In his remarks, Gabriel Okeowo, CEO of BudgIT, hinted that the long-term objective of the initiative is to see that Africa is positioned on the right path, to ensure that the continent projects the right image before the international community.
Okeowo explained that his organisation decided to pursue this course because of the huge resources that have been committed to combat COVID-19 pandemic in the continent.
"And as we all know," he recalled, "history has it that Africa has been struck with a similar pandemic before."
The CTAP is pan-African transparency and accountability initiative designed to track and inform citizens about how COVID-19 funds in Africa have been managed.
The project is currently being implemented in seven countries within the continent, namely Ghana, Cameroon, Malawi, Nigeria, Kenya, Liberia, and Sierra Leone.
By Etta Michael Bisong, Abuja