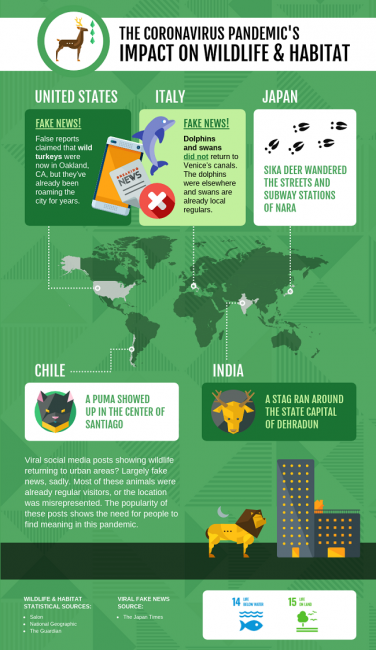 Since the coronavirus pandemic began, an idea began circulating online that the earth is regenerating itself. Supposed sightings of wildlife roaming free in urban areas gained tens of thousands of likes and shares.
Some of these reports proved to be true and others, picked up by the likes of the Guardian and the Japan Times, were false.
In Nara, Japan, sika deer wandered through city streets and subway stations because the tourists who normally fed them in city parks have evaporated.
Indian social media went wild about footage of a stag scampering through Dehradun, the capital of the northern state of Uttarakhand. A puma turned up in the centre of the Chilean capital Santiago, which is under curfew. Neither of these accounts have been disproven.
Other accounts overlooked the fact that these animals were already regular visitors to these areas. Wild boar have long descended the hills around Barcelona to look for food and antagonise people. Gangs of wild turkeys have long been a regular sight in Oakland, California.
Probably the most famous story was the viral social media post reporting that dolphins and swans had returned to Venice's canals. Fake news, says National Geographic. The dolphins were filmed outside Venice and swans are regular visitors to the canals.
The popularity of these animal stories shows the need to find meaning in this devastating global pandemic and that there is a purpose behind the thousands of deaths. Not to mention that emotions are running high and happy animal footage can feel like the perfect antidote to stress.
Courtesy Venngage (venngage.com)