COP27 President, Sameh Shoukry, on Wednesday, November 9, 2022, addressed crowds at the Child & Youth Pavilion at COP27 following a tour of the Pavilion.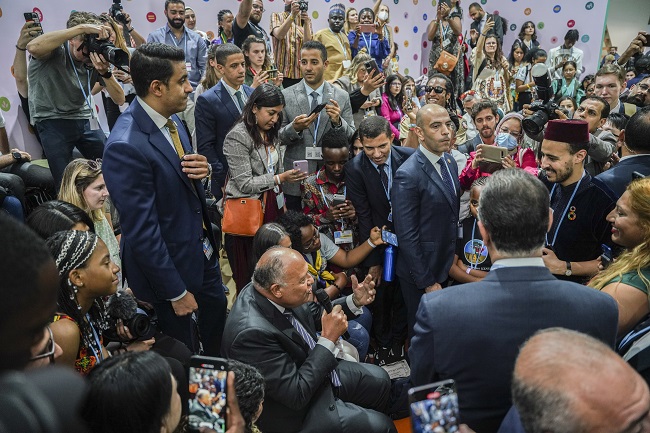 Speaking at the Children & Youth Pavilion, Shoukry urged youth to speak out.
"I depend on your voices. It is your future that we are supposed to be here to guarantee. And it is only through your voices, your advocacy and your inspiration that you will have be able to enjoy your right to take full advantage of the earth, the forests and the air and to live a long and prosperous future on our beautiful planet once government's undertake their responsibilities. You are the future, and it is your voice that will help deliver it," he said.
Following his address, the COP27 President received a petition from young people campaigning for loss and damage funding which following negotiations at the outset of the COP.
The first of its kind Children & Youth Pavilion provides a place for young people to engage, debate and collaborate to make their voice heard at the COP. Activity includes: initiative launches, talks and events for the under 35's. Free meeting rooms and coffee also help young people to get together for implementation at COP27.
The Egypt COP Presidency has taken several steps to ensure that the youth constituency is playing a key role in COP27. Steps include: the first ever Youth Climate Pavilion and Youth-led Climate Forum, the creation of a full Young and Future Generations Day co-created and implemented with YOUNGO, and the establishment of a COP27 Presidency Youth Envoy, Dr. Omnia El Omrani.
As part of another youth initiative, the Youth-led Climate Forum will be presenting key findings of a policy paper that will be introduced via two roundtables on the Young Future Generations Day on November 10 at COP27 in Sharm El-Sheikh.
For the first time ever, this youth statement will find its way to the COP Presidency's Action Agenda where youth representatives, Ministers and negotiators will discuss the expectations and the demands agreed by the youth activists.