Across all areas of the draft text produced at COP26 countries need to go further and fast and reach for the most ambitious positions – on keeping 1.5C in sight, finance for loss and damage and towards a just transition from all fossil fuels including oil and gas, according to submissions from the Climate Action Network (CAN) media briefing on Thursday, November 11, 2021.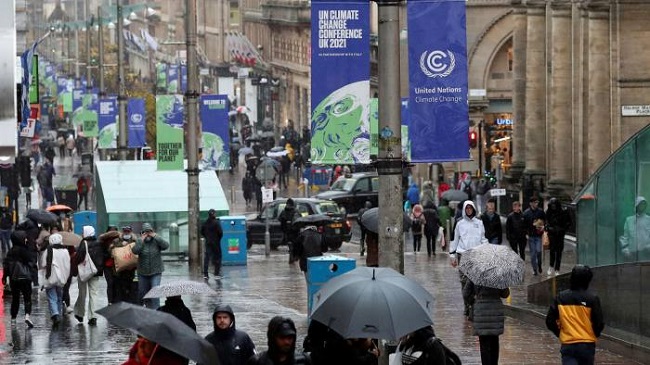 The UK needs to step up leadership and steer the process in the next crucial hours, speakers at the briefing said.
Developing countries have borne the brunt of the devastating impacts of climate change and finance for loss and damage needs be a legacy of COP26, driven by a multilateral process based on global solidarity and leadership, the briefing heard.
Romain Ioualalen, Global Policy Campaign Manager, Oil Change International, highlighted the importance of the Beyond Oil and Gas Alliance (BOGA), launched on Thursday. It is a group of countries and regions who are committing to ending new licensing rounds for oil and gas exploration and production and setting a timeline to phase out existing production on a timeline that is compatible with the Paris Agreement.
He said: "We are calling for an end to the expansion of oil and gas globally and the management of a just transition away from fossil fuels. These tens of billions of dollars should be used to fund the problem of loss and damage. The conversation is evolving on climate change. This alliance is asking a simple question to all countries, and in particular the global north countries, who are still producing oil and gas and have no plans to stop.
"This is a welcome initiative and is long overdue and the level of ambition this initiative has is a floor not ceiling. They're committing to ending exploration but what the science says is not just doing this, but no new oil and gas projects anywhere are what is needed to limit warming to 1.5C."
Catherine Pettengell, Climate Action Network UK Director, called on the UK Government to step up leadership and ambition and deliver a pathway to keep warming to 1.5C.
She said: "We cannot leave COP26 without an agreed way forward over the next year to still have a real shot at getting to 1.5C. Starting with updating NDCs and long-term strategies to reflect all the commitments made here to then anchor them in action and accountability.
"We know what needs to be done. We've read the science. We've heard the voices of those most impacted. And we've seen the mass mobilisation of people on the streets and online raising their voices to demand that leaders pursue only the highest ambition outcomes.
"We need finance for loss and damage now. For too long the most urgent and devastating consequences of climate change have fallen disproportionately on those least responsible for causing climate change. This UK presidency has not done enough in their preparations for Glasgow to put this issue front-and-centre and now the final day demands our solidarity and humanity – that this becomes a the top priority to get the necessary outcomes."
Anthony Diaz, Newark Water Coalition, USA, attending his first COP has been disappointed with what he has seen at this COP and implored countries to show solidarity, so the talks do not end "with just empty words".
He said: "Our domestic and international policies must be ambitious and they're not but I am leaving here with a sense of purpose to go back to my community and push for change because we need to do more. The time is now, and we need to focus on this."
Aïssatou Diouf, Climate Change Advocacy Officer, Enda Energie, Senegal & CAN node coordinator West Africa made the difficult journey to Glasgow with the hope that this could be the turning point in the climate emergency and allay the concerns of her community facing severe climate impacts.
She said: "I've witnessed the impacts of climate change year after year. West Africa has been identified as a climate change hotspot. We are amongst the worst affected, facing food scarcity, displacement and pressure on water resources. The impacts of warming above 1.5C would be profound.
"What we have seen so far in Glasgow will not keep 1.5C in sight – the text does not so far commit to scale up finance for adaptation and finance for loss and damage. African countries have come here with a purpose, to ensure there is an equitable outcome that truly addresses their concerns."