In preparation for the 26th Session of the Conference of the Parties (COP26) to the United Nations Framework Convention on Climate Change (UNFCCC) which will hold in Glasgow, United Kingdom in November 2021, the COP26 President-Designate, Alok Sharma, has embarked on a visit to Nigeria to discuss how the UK can work with the country to address climate change challenges.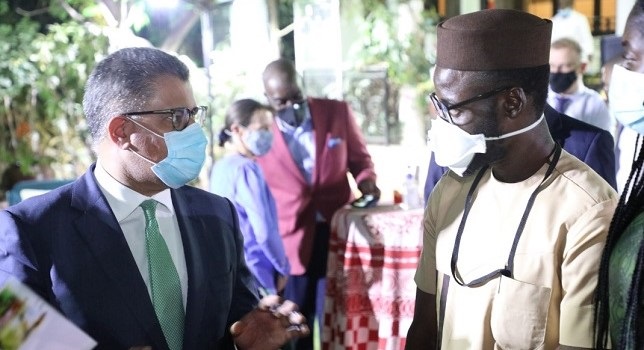 After meeting with the Vice President, Prof. Yemi Osinbajo and the Environment Minister of State, Sharon Ikeazor in Abuja, Sharma was special guest at a reception held on Thursday, February 11, 2021 courtesy of the British High Commissioner to Nigeria to bring together representatives of governments at various levels, the diplomatic community, civil society organisations and youth groups.
Making a presentation at the reception, environmentalist and youth advocate, 'Seyifunmi Adebote, urged the COP26 Presidency led by Sharma to engage young people meaningfully in efforts to mobilise countries towards addressing climate change challenges.
Adebote said COP26 presented many countries with the opportunity to re-evaluate how young people are being engaged in climate negotiations.
"From your visits to Ethiopia, Gabon, Egypt and now Nigeria, it is clear that you consider young people to be important contributors and a germane component towards delivering on the daunting task of hosting COP26. However, the bigger question is: How meaningful are these engagements with young people?" Adebote demanded.
Highlighting why young people should be meaningfully engaged, Adebote explained: "Young people bring dynamic climate-responses and innovation; help track the effort of the government, industries and businesses; ultimately, they monitor and support the process ensuring the intended results are achieved.
"It is not about the number of young people that travel to Glasgow by November but the tangible ideas that young people can incorporate into the countries negotiation framework. Young Nigerians cannot be bystanders in the global climate conversation. We must contribute actively to the process."
Adebote, who is one of Nigeria's official youth delegate to international climate meetings, made references to a recent Climate Innovation Hub which brought together over 1,000 youth-led solutions designed and refined to address climate change in Nigeria. He also explained how DEAN Initiative through her Road to COP26 project is directly engaging one million Nigerian school children by engaging 2,000 volunteers in 4,000 identified schools.
Joining the reception were the United Nations Deputy Secretary-General, Amina Mohammed; Residence coordinator of UNDP Nigeria, Mohammed Yahaya; Governor of Ekiti State, Kayode Fayemi; and several environmental actors representing businesses, civil society organisations, youth groups and NGOs.
Sharma's visit to Nigeria comes after his visit to Ethiopia, Gabon and Egypt. About 400 young people (18 – 29) are expected to attend the Pre-COP26 meeting in Milan, Italy from September 30 to October 2, 2021, before the COP26 in Glasgow, Scotland from November 1 to 12, 2021.