As COP25 veers close to an end, youth activists in the morning on Wednesday, December 11, 2019 occupied the plenary hall.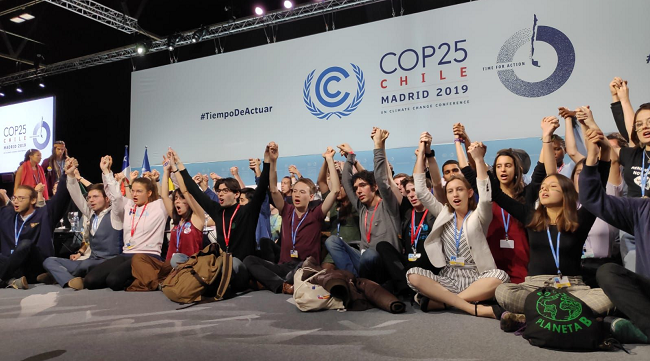 Courtesy of Fridays for Future, about 50 climate strikers took to the stage after the High Level Event on Climate Emergency to show their enragement about the absence of enough climate action.
The action was planned and staged by climate strikers from all continents. It was organised in support of Greta Thunberg, who spoke at the event before the staged action.
The symbolical act, it was gathered, was aimed to make clear that the climate negotiations are still falling drastically behind what science demands be done to avoid the worst-case scenarios of the climate crisis.
Alexandria Villaseñor from New York explains her motivation of taking part in the protest: "I have been striking for my future for a year. Young people around the world are taking to the streets while the governments of this world are continuing to destroy our future," she said.
Lukas Wirth from Switzerland adds: "The horrors of the climate crisis are unfolding right now before our eyes. We must stop this madness right now. We will continue with our protest during and after the COP."
Hoda Baraka, Chief Communications Officer at 350.org, said: "Today, once again, the youth are providing the moral clarity that is sorely missing from the climate talks. Millions of young people have hit the streets this year in an unprecedented wave of mobilisations to call for drastic and immediate action on the climate crisis.
"The climate talks have so far responded by kicking the can down the road, once again. Unless there are strong commitments to start phasing out fossil fuels immediately, including finance flows that continue to expand fossil fuel production, politicians risk the backlash of an entire generation that is terrified for their future and outraged by the influence that the fossil fuel industry has on the political process."