It's difficult for Africa to engage in the climate negotiations without emotions, says Ambassador Tosi Mpanu Mpanu, a top African climate negotiator.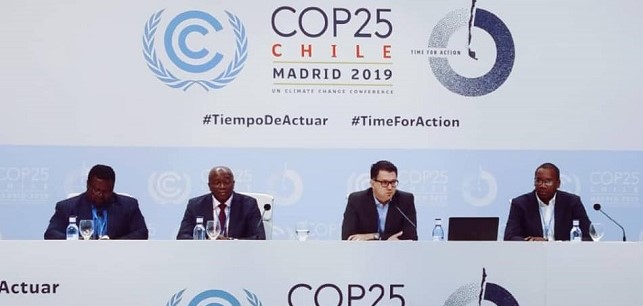 As a continent that contributed least to climate change, Africa remains most vulnerable to the impacts – experiencing increasing extreme weather events such as cyclones, droughts, floods and desertification.
Historically, Africa is the continent with the lowest carbon footprint. But the latest report by the Intergovernmental Panel on Climate Change (IPCC) indicates that Africa will be impacted at least 20C more than the average – if the warming is 1.50C in other continents, Africa could be experiencing 3.50C.
The vulnerability of the African continent was recently evident when more than 1,000 people were killed across Malawi, Mozambique and Zimbabwe due to Cyclone Idai. The World Bank estimates that the economic loss from cyclone Idai is around $2 billion dollars.
When the needs of Africa are therefore not prioritized at the global climate negotiations, emotions rise.
Always being at the forefront of the climate change fight, Africa has opted to set emotions aside by choosing the scientific path as an objective tool of engagement.
For Ambassador Mpanu Mpanu, the continent needs to receive means of implementation in areas of financial resources and technology transfer as already contained in the conventions, common commitments and the Paris Agreement on Climate Change.
"It is important that when we decide something together, it is important that we deliver on our promises," he said.
Climate impacts go beyond environment realm
Climate related disasters have increased exponentially in Africa over the past two decades. Although the mortality rate due to disasters is decreasing, the number of people affected, and the economic impact of disasters on the continent, is rising.
This can be largely ascribed to improvements in development, including urbanization, and economic activities. Despite these improvements, the economic and social growth achieved so far is very fragile and susceptible to climate risks and disasters.
According to the World Bank (2019), many African countries have made significant development achievements in the last few decades with annual growth averaging 4.5 percent, but increasing weather, water, and climate risks threaten these gains.
Today, climate change is going beyond the environmental realm to geo-politics.
A report by the International Institute for Environment and Development (IIED) has warned that climate change will widen the policy gap of increasing food security in the global South, because climate change impacts will affect not only harvests but also the systems that people use to transport, store and buy and sell food.
"Food security is back on the agenda thanks to rising prices and the threat that climate change poses to agricultural production," says the report's author Dr Cecilia Tacoli. "But policies that focus on rural food production alone will not tackle the rising food insecurity in urban areas. We also need policies that improve poor people's ability to access and afford food, especially in urban areas."
Africa remains highly vulnerable to disaster and climate risks, and other human induced hazards with related risks and disasters affecting millions of people, leading to loss of lives and livelihoods, causing conflict, migration, displacement, human insecurity and humanitarian challenges, which reverse development gains.
Africa's dilemma of resource exploitation against climate ambitions
The fossil fuel industry liability is a growing area of focus as the industry's long history of denial and the link between industry emissions and climate impacts becomes more evidenced.
Some 100 fossil fuel companies are responsible for 71% of greenhouse gas emissions since 1988.
At the 25th Session of the Conference of the Parties (COP25) to the United Nations Framework Convention on Climate Change (UNFCCC) in Madrid, Spain, representatives from a global coalition have delivered a call to governments to hold polluting industries liable and make them pay for the damage they have knowingly caused and for real climate solutions.
"Big Polluters are most responsible for this crisis and must be made to pay for the damages, loss of life, and climate doubt their operations have knowingly created," said Sriram Madhusoodanan of Corporate Accountability.
African countries are currently discovering lots of minerals and natural resources, especially oil and gas, which are important for wealth creation and economic advancement. The discoveries are in the midst of a strong call from the international community against investments in the extractives as high emitting industries.
This puts Africa's policy makers in a dilemma – though committed to climate change, they are faced with the challenge of meeting high socio-economic needs.
The African Group of Negotiators (AGN), therefore, wants parties at COP25 to acknowledge the special needs and circumstances of countries on the African continent.
"What we want to have here is a process whereby Africa is allowed and encouraged to go on the sustainable path of development while at the same time making sure that things are going in the right direction," said AGN Chair, Ambassador Mohamed Nasr.
He emphasised that Africa's demand is not a competition on vulnerability but looking ahead to deal with the impacts of climate change in line with the Paris Agreement, while ensuring the continent is on a sustainable path.
Madrid must deliver on expectations of vulnerable countries
The AGN's position is backed by African civil society, who posits that countries on the continent are only demanding what it deserves.
The African expectation is for the international community to demonstrate the willingness to fight climate change to convince Africa to stay on the good path of sustainability.
"We say finances and technology should be made available to encourage Africa to stay on the chosen path which is a low carbon development pathway," said Augustine Njamnshi of the Pan-African Climate Justice Alliance (PACJA).
The first week of the COP25 summit focused on technical matters, including rules for carbon markets, and a review of the work on loss and damage for people and communities who are losing their homes, land and livelihoods to climate change.
"When people and communities experience loss and damage due to cyclones, droughts and flooding, they need effective support. While developed countries seem to acknowledge that this is a problem, they fail to commit to any reasonable steps towards addressing it. We need new and additional sources of finance for vulnerable communities facing loss and damage," said Isaiah Toroitich, head of advocacy and development policy at the ACT Alliance.
Work on resilience building is gaining momentum on the continent with bold institutional frameworks and strategies, including the 50-year Pan-Africa Agenda 2063 adopted in 2003.
Ambassador Mpanu Mpanu however says "it is important that while we are here in Madrid (COP25), we work steadfastly to come out with results, agreements, decisions to implement the Paris Agreement because we don't have any time to lose as Africans. We are ready to move forward. Africa is ready to move based on science, rule of law, equity and good faith".
Courtesy: PAMACC News Agency