The UN Climate Change Conference (COP25) holding in Madrid, Spain kicked off on Monday, December 2, 2019, with urgent calls to make serious progress on climate action over the next two weeks.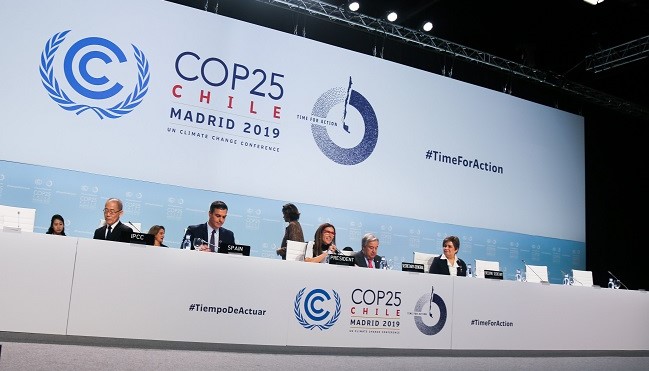 Speaking at the opening ceremony, United Nations Secretary-General António Guterres said that, with climate change impacts becoming ever more dangerous and apparent, COP25 must convey to the world a firm determination to change course.
"We must finally demonstrate that we are serious in our commitment to stop the war against nature – that we have the political will to reach carbon neutrality by 2050," he said.
António Guterres reminded COP25 delegates that the key objective of the conference was to reach progress on key items, notably on Article 6 of the Paris Agreement relating to carbon markets and continuing to boost ambition in preparation for new and revised national climate action plans due next year.
"To put a price on carbon is vital if we are to have any chance of limiting global temperature rise and avoiding runaway climate change. Operationalising Article 6 will help get markets up and running, mobilise the private sector, and ensure that the rules are the same for everyone," he said.
The COP is also to advance work related to capacity-building, deforestation, indigenous peoples, cities, finance, technology, gender and more.
And it must complete several technical matters to achieve the full operationalisation of the transparency framework under the Paris Agreement.
The UN Chief said he expected all governments to commit to review their national climate action plans – Nationally Determined Contributions or "NDCs" – with the necessary ambition to tackle the climate emergency in the course of the coming 12 months up to COP26, the date by which governments need to submit updated and enhanced plans.
And he called on governments to ensure that at least $100 billion a year is available to developing countries for measures to reduce greenhouse gas emissions and to build resilience to climate change.
The Chair of the Intergovernmental Panel on Climate Change (IPCC), Hoesung Lee, pointed to the economic benefits of more ambitious climate action, which could generate opportunities for investment in innovation.
"These investments would generate powerful benefits spilling over to all sectors of society and the economy, making them cleaner, healthier and more resilient," he said.
Earlier in the day, Carolina Schmidt, Chile's Environment Minister, was formally elected President of the COP. She reminded delegates that work needed to be taken forward at COP25 which can then be captured in improved national climate action plans under the Paris Agreement next year.

"We need to make new and more ambitious commitments which include all of the aspects of climate action: mitigation, adaptation and means of implementation. The main vehicle to stimulate more ambition are the Nationally Determined Contributions," she said.
In his speech at the opening, Spain's Prime Minister, Pedro Sanchez, underlined the importance of women in climate action. Mr. Sanchez celebrated the memory of an American woman scientist who back in 1856 was the first to identify CO2 warming effect.
"I wanted to start by evoking the memory of Eunice Foote for two reasons: first, to rescue her memory, and the memory of so many other women scientists, from the injustice of oblivion. Second, to remind everyone that it has been a long time since science started warning us about climate change.
This double paradox is an invitation to reflect. For so many decades, progress has been conceived without involving half of humanity, and at the same time, the notion of progress has not considered the physical limits that make human life viable on our planet," he said.