The Peruvian Minister of the Environment and President of COP20, Manuel Pulgar-Vidal together with the Prime Minister, Ana Jara, and Chancellor Gonzalo Gutiérrez, have announced the achievements made and the next steps being taken in the organisation of the Twentieth Conference of the Parties of the United Nations Framework Convention on Climate Change (COP20), which will take place in Lima from the 1st to the 12th of December this year.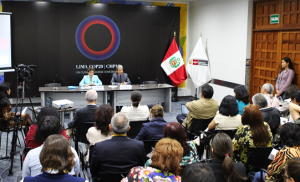 The announcement is framed within the #COP20 AVANZA strategy (#COP20 MOVES FORWARD), launched 90 days before COP20's inauguration. The strategy establishes concrete progress made and clear targets for Peru's participation in the most important climate change event in the world.
The Venue
Minister Pulgar-Vidal informed that the official venue of COP20 will take place within the Peruvian Army's General Headquarters, and spread over a 90,000 m2 area. The place where negotiations will take place was built by the French company GL Events, which was selected in an international call for tenders, and which has broad experience raising and equipping temporary facilities. They have installed the social areas of Soccer World Cups since 1998 with temporary constructions even larger than this one. The construction of COP20 facilities will start on September 15 and end on the first week of November.
The venue will have 30 meeting rooms, two plenary session rooms, two press conference rooms, 11 rooms for side events, 4,000 m2 for office spaces, a press area and an International Recording Center for 100 TV and radio stations, among others.
Inside the main COP20 venue, there will be different services required by participants: religious services, banking, information on accommodations and tourism, food, equipment for rent, telephones, translation and interpretation services, catering for private meetings, medical and cleaning services, among others.
Voices for the Climate
Voices for the Climate will be a participation space located at the Peruvian Jockey Club (Jockey Club del Perú). It will be an area devoted to civil society participation and to generating more awareness among citizens. Achievements and the work conducted globally on five prioritized issues will be presented as well: forests, oceans, sustainable cities, energy, and mountains and water. This space will be open to the public at no cost.
Organisation
Thanks to the creation of the Multi-Sector Task Force, composed by representatives of different sectors and institutions, progress has been made in the plans along different aspects.
As for accommodation for the 12,000 expected visitors, 900 establishments were visited in Lima and 325 hotels from 1 to 5 stars in good or excellent condition were identified. This means that 15,000 rooms and 18,000 beds are available and reserved for those days. Besides, a process of awareness is taking place in hotels, so that these take into account the needs of participants. A communication system has been established to respond to participant questions and queries.
A Food Surveillance Plan is being implemented through the inspection of restaurants and smaller eating establishments in 18 districts in Lima.
Meanwhile a health plan and an epidemiological surveillance plan have been developed and consolidated, and a network of clinics and hospitals has been established so they are ready and in orange alert to offer assistance -if needed- to COP20 participants.
As for transportation, five routes have been defined for the transportation of participants from already identified hubs to the venue and vice versa. A system of shuttles has also been planned from the airport and "green waves" have already been established with the national police for rush hours to prevent traffic congestion.
Security has also been coordinated between the Ministry of Internal Affairs and the Army's General Command (CGE). They have set security rings for the main venue, hotels, and airport and have designed security protocols for authorities.
Finally, a protocol has been prepared to facilitate the entry of negotiation teams to Peru, creating an online visa system and generating agreements to exempt diplomatic, service and official passports from visas with 71 countries. At the same time Lima Airport Partners (LAP) will offer facilities to speed up entry during those days.
Benefits
Economic benefits for Peru are estimated to be immediate and to range between $40 and $45 million just for the first month, from expenditures in for example accommodation and food and shopping. In addition to this, expenditure in tourism within Peru have been estimated at around $10 million.
Thanks to this event, Peru could attract many "green" investments. During COP16 in Cancun, Mexico, commitments for $2.5 billion were announced in "green" investments.