The issue of waste management is becoming a thing of worry in Makurdi, the Benue State capital, where wastes pile up and litter junctions, roadsides and road dividers. The practice of dumping waste at these undesignated spots started a few months ago and has continued unabated.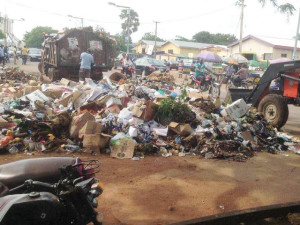 According to a resident along Iorkyaa Ako Street at the High Level area of the town, Terfa Iortyeer, the practice started when the Benue State Environmental Sanitation Agency (BENSESA) removed litter/waste bins from strategic spots in the metropolis, and directing residents to package wastes in polythene bags which they (officials of BENSESA) promised promised to come and collect them.
However, Mr Iortyeer noted that since the introduction of that new strategy, the Agency failed to come to collect refuse or deliberately chose few places to carry out the waste collection.
Another resident in Makurdi who simply identified himself as Ugba stated that the situation is not palatable, as he uses his car to go and dispose waste at the outskirt of the town, stating that those who do not have the luxury of a car to aid them in disposing their waste have no choice than to dispose it wherever they wanted.
"Although it is not healthy for the environment and not right for residents to dump refuse indiscriminately on the streets as it causes air pollution and could cause an epidemic, what else can they do?" he demands.
When contacted to speak on the matter, the General Manager of BENSESA, Simon Chile, states that they have enforced the Benue State Sanitation Law and will arrest anyone dumping waste indiscriminately.
Debunking the claim that they are choosy on where to collect waste, Mr Chile maintained that the agency has been covering the whole town and not a select part. He adds that they removed most of the public waste bins due to health hazards posed by the dumping of medical waste by hospitals at spots meant for domestic waste.
"We have still maintained some waste bins at enclosed spaces where they cannot be tampered with by the secret dumping of medical waste," he adds.
He stressed that they are resolute in going round houses in the metropolis for monitoring and disposing waste neatly packed in polythene disposal bags.
Also speaking on proper waste delivery, Dr. Oje Echikwonye of the Department of Epidemiology and Public Health at the Benue State University Teaching Hospital called on the citizenry to imbibe a culture of keeping their environment clean and properly disposing waste.
According to her, having a clean environment prevents the spread of diseases, injuries and enhances the aesthetic value of the environment.
To this end, she called on the residents of Makurdi to partner with BENSESA in ensuring that they live healthier in a clean environment.
The trail of waste littering the town stretches from Naka Road through High Level from Iorchia Ayu Road up to Wurukum Roundabout and other areas.
To this end, the government needs to quickly adopt new strategies to manage the increasing waste generated in Makurdi in order to curtail the many ills the indiscriminate disposal of waste is causing to the residents, among others.
It is expected that through BENSESA and Private Sector Players (PSP), better results at managing waste disposal through provision of dump sites, a harmonised revenue generation disposal system, and improved technological waste handling and management can be achieved.
The earlier the waste disposal system's sorry state is addressed, the sooner the probability that success will be achieved in curtailing health hazards ocassioned by the humongous churn out of solid waste without adequate waste disposal equipment and lack of official dump sites.
In the face of contemporary times and new technologies, there is an urgent need for the government and the private sector to collaborate in a partnership that would help reposition Benue's waste management system to conform with international best practices.
Waste management is a big business and income earner and it goes without saying that, as Makurdi metropolis keeps developing with new layouts springing up constantly, the economic activities and livelihood activities along side population increases with attendant increment in waste generation. With the foregone, if systematic and deliberate new approaches to waste management are explored, the town and, indeed, the whole of the state can conveniently manage her waste instead of struggling with its storage, collection and disposal.
Commercial waste management, regulated by government, would greatly aid in a situation where the State Government cannot wholly invest in collecting, and effectively disposing waste via recycling as dump sites/landfills as the case may be, is even now discouraged as it is known to create environmental pollution and other health hazards to those resident around the area.
There is also every need to sustain the tempo recently adopted by the Senior Special Assistant to the Benue State Governor on Public Utilities, Environment and Sanitation in the clean up of the town drainage channels as another way of doing away with littered waste.
It is unacceptable that Makurdi has no designated official waste dump site not to talk of landfill. There is need to have at least four dump sites for Makurdi or it will be grossly inadequate. So to say, a dump site ought to be sited along Makurdi-Lafia Road, Makurdi-Gboko Road, Makurdi-Otukpo Road and Makurdi-Naka Road to attend to the ever growing population of the cosmopolitan town.
Part of the ineffective collection of waste is due to the lack of viable dump sites which will continue to lead to indiscriminate dumping of waste by roadsides, drainage channels and also overflowing public waste bins/litters.
Summarily, in addressing waste management problems in Makurdi and beyond, the Benue State Government must jack-up her political will and commitment in waste management, re-sensitise the public on proper waste disposal practices to change their behaviour, conveniently manage waste management from collection and point to final disposal point, introduce recycling of waste and create market for the products from the recycling will go a long way in solving the problem of waste management in the state.
By Damian Daga