The inhabitants of Boki Local Government Area in Cross River State are presently living under serious tension as angry youth battle for the control of Boki Oil Palm Estate, Borum.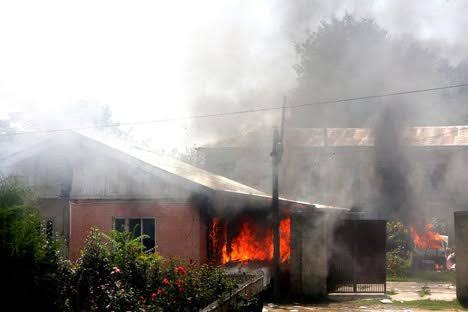 This crisis, which began last year, has claimed the lives of many innocent people, destroyed properties and left many others traumatised.
Reacting to the ugly incident, the chairman of Ochibe Boki, Major General Moses Obi (rtd), has appealed to all the parties involved to exercise restraint and explore peaceful as well as acceptable mechanisms in resolving their grievances.
The former army officer, in a press statement titled: "Message of Peace and Love", expressed displeasure over the anxiety that the unwarranted situation has created particularly the compromise of the peaceful co-existence and security of the people.
"I feel pained," he said, adding: "I remain committed to contributing, in whatever way I can, in helping our government and our institutions, to help us."
He submitted that, together with resolve and prayers, the good people of Boki would overcome and the evil times will get behind them for good.
Also, other concerned Boki sons and daughters both within and outside Nigeria have joined their voices to express sadness and condemn the upheaval that has engulfed the people.
Social agent activist and human rights lawyer, Dr. Joseph Odok, accused the Cross River State Government of conspiracy and keeping silent over the ongoing brouhaha.
He recalled that Ochibe Boki has been at the vanguard of proffering solution since the crisis erupted over a year ago, but noted that the government has done nothing to complement existing peace efforts.
"Some appointees of Ayade have groomed boys that have snowballed into two groups to protect their interest in the estate. Proceeds of the Palm Estate have been used to buy guns and the boys have become so powerful that they now respect no chief or elder," Dr. Odok posted on his Facebook page.
The university don decried the seeming helplessness of Ochibe Boki under these circumstances to curb the matter.
According to him, chairman of the umbrella body in an open outcry had earlier called on Governor Benedict Ayade to rapidly intervene by deploying security personnel to help salvage lives and property.
"I join my voice with that of Ochibe Boki to call the security apparatus in the state to step in to save lives," he said.
The rights campaigner hinted that too many lives have been lost and properties destroyed because of the government's failure to respond timely and address issues of security breaches.
"I make this call before the break down of law and order between Osokom people and Oku community," he concluded.
By Etta Michael Bisong, Abuja