As African countries embrace the latest technology that includes use of phones, computers and other electronic gadgets, quite a number have however not thought  about a national e-waste management strategy that will address the unsavoury effects of this venture that appears to have taken the continent by storm.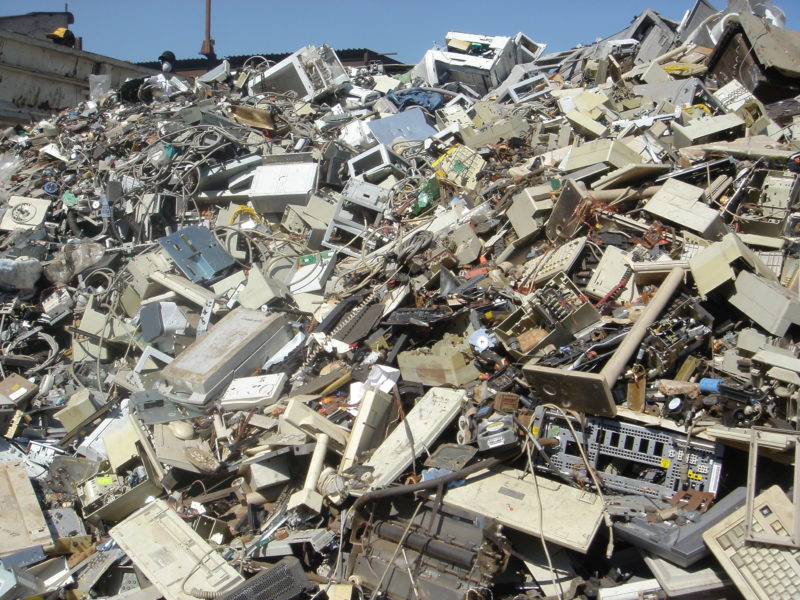 According to the Rwandan Minister of Environment, Dr. Vincent Biruta, the rapid growth of economies has contributed to massive generation of electrical and electronic waste commonly known as e-waste where, an estimated global quantity of e-waste generation in 2014 was around 41.8 million tonnes, with this amount of e-waste expected to grow to 49.8 million tonnes in 2018, with an annual growth rate of 4 to 5 per cent, with most of this heading to developing countries for reuse and disposal.
"Rwanda, being no exception, has grown dependence on the use of modern technologies in all sectors of her economy, which has led to an increase in the amount of discarded EEE," he said.
He said the discarded EEE contains hazardous substances such as lead, mercury, arsenic, cadmium, and selenium, among others, which poses peculiar threats and risks to human health and to the environment if not properly handled and disposed.
"Adequate e-waste management allows the recovery of precious metals such as gold, silver, platinum, palladium, copper and tin from disposed components, and also creates new business and job creation opportunities in the e-waste collection and management value chain, while reducing environmental burden to landfills," he explained.
He added that e-waste with such risks and potentials should be separated from other types of waste and either recycled or properly disposed. "There is an urgent need for a clear framework for handling and disposal of the E-waste," he said.
E-waste Programme Manager at the Ministry of Trade and Industry, Olivier Mbera, said one of the measures Rwanda adopted was to carry out a detailed inventory to establish the current e-waste situation, develop a strategy, policy and legal framework to enable the establishment of environmental friendly e-waste collection centres and dismantling facility.
Mbera said the ministry is also creating awareness in the private sector, public institutions and the communities, saying that the facility would benefit the conservation of natural resources, the creation of green jobs, the reduction of risks from hazardous materials affecting human health and environment.
"The national framework for e-waste recycling and a country wide collection scheme with incentives and the establishment of a dismantling facility will be as well as connected to a sustainable recycling industries on a national, regional and international level," he said
David Toovey the communications advisor for Rwanda's Green Fund said the country has invested close to $1.5 million in an e-waste facility.
Located in Bugesera in Eastern Rwanda, the second plant in Africa after South Africa, the facility is designed to collect and treat e-waste according the required standards.
"The recycling facility is now operational and yielding positive socio-economic impacts for the country. Some 300 people are already employed in green jobs and students have been given internships at the facility," he said.
He also said collection centres have been established in each district across the country which has created more than 1,000 employments.
"The e-waste facility is so advanced that it can recycle 15,000 tons per year. Sustainable e-waste management is a robust engine of green growth as both consumers and recyclers play their part. We are proud of what we have achieved with support from the Rwanda Green Fund," he said.
Precious metals such as gold, copper, and silver, along with other electronic components, are being extracted, recycled and sold to be made into other valuable items.
Jean Philbert Nsengimana, the Minister of Information Communication and Technology (ICT) said the demand on EEE has significantly increased in Rwanda due to its rapid economic development.
He said the demand is enhanced by the national initiative to enhance ICT that require varieties of ICT tools such as computers and mobile phones.
"As such, there has been an enormous increase in ICT usage that led to high demand of the newer products. Additionally, as people are eager for newer technologies, the period for use of these products is progressively decreasing. Consequently, older and outdated products are becoming obsolete and being discarded as E-waste in large quantities and at increasing rates worldwide," he said.
"In most cases, e-waste is mixed with ordinary waste at homes and disposed of at regular dumpsites. The facility will therefore control end of life electronics and electrical equipment resulting industry development including ICT, thus enhancing green and healthy environment," he said.
Uganda's policy on e-waste in draft
According to Bob Nuwagira, the information officer at the National Environment Management Authority (NEMA) said Uganda has formulated a draft policy on e-waste.
"We have a problem with e-waste," said Nuwagira, adding that e-waste is currently considered as waste and ends up at the landfill which is supposed to receive only solid waste.
"We do not have a landfill for e-waste and do not know how to manage it."
He added, "Old electronic equipment contains toxic materials and some of them are persistent organic pollutants."
The quantities of e-waste remain unknown but it expected to be large volumes. "So many people use mobile phones and computers," he said, adding that such gadgets are being changed without proper disposal of the old ones. "Most people are still keeping electronic waste in their houses because of low levels of awareness."
In addition, the e-waste sometimes is worked by artisanal workers something which Nuwagira believes exposes them to toxic materials and endangers their health.
Such concerns, according to Nuwagira are behind the policy on e-waste, which is currently in draft form. "The National Environment Management Authority together with ICT Ministry has been developing a policy on e-waste," said Nuwagira.
As Uganda grapples with e-waste, neighbouring Rwanda is showing the way out of growing e-waste problem.
By Hope Mafaranga