Project Coordinator, Hydrocarbon Pollution and Remediation Project (HYPREP), Dr Marvin Dekil, has commended Ogoni communities for donating several hectares of land to the body.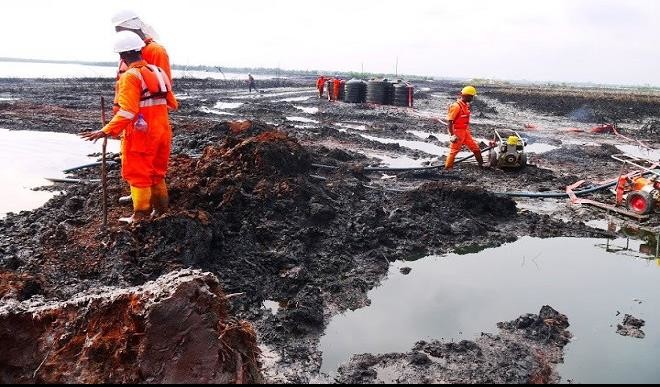 Dekil gave the commendation at a ceremony to mark handover of the expansive land to HYPREP in Lumene-Bangha, Khana Local Government Area of Rivers State on Wednesday, June 20, 2018.
Represented by Mr Isa Wasa, HYPREP's Head of Communication, Dekil said the expansive landed property would enable HYPREP to fast track clean-up of oil impacted sites in Ogoniland.
He said: "The landed property will be used for the training of Ogoni women and youths for creation of wealth on agro-allied skills in fish farming, feed mills and cropping, among others.
"We pledge to carry everyone along in the clean-up process and in the livelihood restoration programme that is slated to commence soon."
Dekil told traditional rulers in the area that the project would soon provide potable water to hydrocarbon impacted communities as recommended by United Nations Environment Report (UNEP) on Ogoni.
He explained that companies have submitted bids for the water project and clean-up exercise and assured that the best companies would be hired for the jobs.
"We thank the Nyo-Khana and Ken-Khana kingdoms for giving us the land. This gesture is not just for us (HYPREP) but for the Federal Government.
"HYPREP's mandate is to clean Ogoniland and restore its livelihoods; and we are committed to carrying out this mandate," he assured.
Dekil urged other communities in the area to emulate Nyo-Khana and Ken-Khana communities to enable HYPREP fast track the clean-up process.
He said the project would carry out survey on the parcels of land to determine its size.
Speaking, Dr Melford Eguru, Gbenemene of Ken-Khana Kingdom in Khana LGA, said the land was big enough to accommodate any project that would be sited on it.
He urged the Federal Government to accommodate traditional rulers in the clean-up exercise due to the role they play in maintaining peace in the communities.
On his part, the Gbenemene of Nyo-Khana, HRM Suanu Baridam, pledged to support and cooperate with authorities to fast track the remediation process.
Baridam cautioned against the use of the clean-up exercise by some politicians to drive regional and religious sentiments.
By Desmond Ejibas