Cologne Zoo in western Germany is mourning the loss of one of its most popular animals, a 17-year-old lowland tapir named Ailton.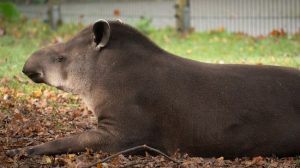 Ailton had suffered major health problems recently and underwent weeks of treatment before the animal's health took a turn for the worse this week, the zoo announced.
"He was treated intensively by our veterinary staff for the last three weeks.
"Although his condition initially improved, his health became much worse on Tuesday.
After careful joint consideration and exhaustion of all treatment options, we ultimately had to euthanise him to spare him further suffering.
"Rest in peace,'' he added.
The lowland tapir is an herbivorous mammal native to South America that physically resembles a pig.
Ailton was born at Hamburg's Hagenbeck Zoo and lived in Cologne since 2008.
Many frequent zoo visitors on Friday expressed sadness over the death of the animal.
"I knew you from a young age, take care Ailton. I will never forget you,'' wrote one user on the zoo's Facebook page.
Another user recalled: "You often made me laugh and gave me a lot of joy.''