The 2020 annual report released by Connected Development (CODE) detailing how the federal and state governments spent the N97 billion Coronavirus intervention fund has recommended for the probe of all the Ministries, Departments and Agencies (MDAs) directly involved in the acquisition and distribution of COVID-19 palliative relief materials for operational mistakes and logistics mismanagement.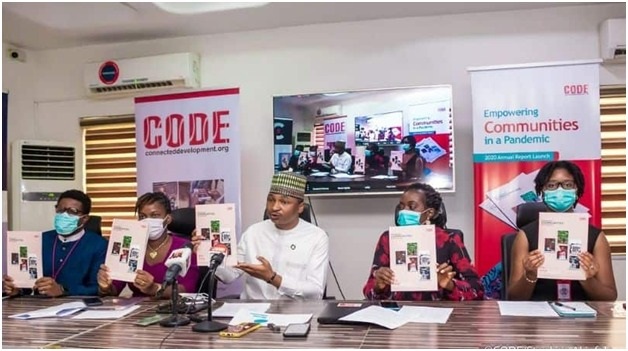 Tagged: "Empowering Communities in a Pandemic", the report, which was made public on Thursday, June 10, 2021, in Abuja, stated that CODE launched the "Follow COVID Money" (FCM) campaign to ensure that every penny disbursed to cushion the effect of COVID-19 on the citizens was both appropriately used and accounted for.
Findings of the publication showed that although the federal and state governments channelled distribution through the National Social Register (NSR), but not all individuals and households in the register benefited from the exercise.
In many cases, it observed, officials were diverting the items, allowing unfair distribution patterns to favour their families and friends.
Another problem that is worthy of note that the report captured during the campaign is the growing decline and less effectiveness in the quest for citizens to access recorded information held by public authorities.
Out of the 90 Freedom of Information (FoI) requests issued to federal and states MDAs demanding for information on how the funds were disbursed, according to the report, only 12 detailed responses were received, 18 were vague, while 60 never responded at all.
Chief Executive Officer of CODE, Hamzat Lawal, in his remarks at the event hinted that the FCM initiative mobilised 8,500 champions whose work impacted 257 communities and accelerated the publication of an updated national Emergency Procurement Policies (EPP).
In addition to the success stories at home, he said CODE in partnership with BudgIT, a fiscal transparency organization, expanded its scope of work by activating COVID-19 Transparency and Accountability Pan-African Project (CTAP) across other African countries, namely Liberia, Cameroon, Ghana, Kenya, Malawi, and Sierra Leone.
"One consistent gap across all the countries is poor procurement processes, fund embezzlement, and lack of government's transparency," Lawal noted.
Despite the challenges posed by the global pandemic, the anti-graft crusader said his organisation sensitised 10,000 residents in Fufore and Yola South Local Government Areas on the need to increase girl-child enrolment and retention in schools, a development which ushered in a new precedence as traditional authorities became advocates and started deliberating on how to advance the enrolment of the girl-child into school.
For CODE, the human right campaigner said, the pandemic redefined their work in new ways and revealed our collective success doesn't only depend on how we care for ourselves but also how we are looking out for other people around us.
He reiterated that, with an objective to build stronger institutions, CODE would continue to dedicate its resources and efforts towards rebuilding the fragilities in the country.
In spite of the doom that accompanied COVID-19, according to him, his organisation's resolve for a more gender-inclusive society, a higher standard of accountability and transparency in governance and improved state of education and healthcare in the country will never waver.
"In fact, COVID-19 was just another hurdle in the course of our work and where challenges abound, we recognise and utilise opportunities for greater impact," Lawal said.
CODE is a non-governmental organisation (NGO) that canvasses for citizen's access to credible information and empower local communities across Africa to hold their government accountable on public spending.
With support from donor-partners such as Luminate, John D. and Catherine T., MacArthur Foundation, ActionAid Nigeria, Heinrich Boll Stiftung, OXFAM Nigeria, Christian Aid, Ford Foundation, USAID E-WASH, and OXFAM NOVIB, the transparency and accountability network tracked N193,027,506,174 ($507, 967, 121. 5) worth of government projects in 2020.
By Etta Michael Bisong