The Coca-Cola System in Nigeria, comprising Coca-Cola Nigeria, CHI Limited and Nigeria Bottling Company has reiterated its commitment to promoting sustainable ecosystems and ocean preservation through its Annual System Beach Cleanup exercise in furtherance of the World Without Waste Vision.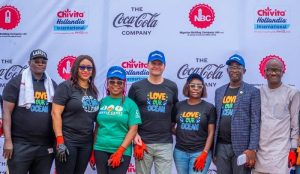 Through this vision, Coca-Cola is investing in the planet and in its packaging with a goal to collect and recycle a bottle or can for everyone it sells globally – regardless of where it comes from – by 2030.
Nwamaka Onyemelukwe, Director, Public Affairs, Communications and Sustainability, Coca Cola Nigeria, made this known during the 2023 edition of the Coca-Cola Company Annual Beach Clean-Up Exercise which took place at Elegushi Beach in Lagos on Friday, June 16, 2023.
Onyemelukwe, during her opening remarks, reiterated the significance of the exercise and how the company is committed to fostering partnerships that promote environmental preservation.
"While we have made progress against our World Without Waste goals, we're also committed to doing more, faster, so that we grow our business the right way. That's why in 2020, we signed a joint statement urging United Nations member states to adopt a global treaty to tackle the plastic waste issue and helped launch the Business Coalition for a Global Plastics Treaty in 2022.
"We also announced an industry-leading target for reusable packaging aiming to have at least 25% of all beverages globally across our portfolio of brands sold in refillable/returnable glass or plastic bottles or in refillable containers."
She added: "Ultimately, we recognise that we can't achieve our goals alone. Addressing plastic waste and recycling challenges requires collaboration between the industry, the public sector, and civil society.
"Through effective collaboration as well as partnerships with NGOs such as the Food and Beverage Recycling Alliance (FBRA), National Plastic Action Partnership (NPAP), Ellen MacArthur Foundation (EMF) and World Wildlife Fund (WWF), we can help accelerate impact."
Onyemelukwe went further: "About three years ago, there was no bottle-to-bottle recycling plant in Lagos. Today, we have two of such companies using used plastic bottles as raw materials for their produce, that is a significant step for us. You can also see a recycling bank here at Elegushi Beach, we left it there last year so everyone in this community can come in there and drop their collected bottles either in return for cash or they can get a gift card to go for shopping, so can they leave the cards to accumulate before they redeem it to pay their children's school fees or something."
Speaking at the event, the Managing Director, CHI Limited, Eelco Weber, remarked: "For the Coca-Cola System in Nigeria, sustainability remains at the very core of all operations. We have set ambitious goals to facilitate this, and we are taking a leading role in Nigeria by collecting and recycling the equivalent of every bottle or can we sell by 2030. We are a socially responsible company, and we continue to lead the charge in Nigeria and globally by continuing to do what's right for our planet, our communities, and our system.
"This exercise does not stop on the beaches in Lagos. We are also thinking of taking this to the hinterland because plastics is everywhere and there is need for us to address that."
Soromidayo George, Director, Corporate Affairs and Sustainability, Nigerian Bottling Company, also reinforced the vision of the System in advancing solutions that address waste management across the country. She stated that it is imperative to sort recyclables like PET from other household waste and take them to the recycling banks, since recycling PET can help reduce the annual volume of plastics entering our oceans by 80%, reduce greenhouse gas emissions by 25% and help generate income and create jobs thereby contributing to the economic development of Nigeria.
Ibrahim Odumboni, Managing Director, Lagos Waste Management Authority (LAWMA), noted that cleaning along the shoreline is not peculiar to Nigeria alone, the objective behind that is to protect the aquatic animals to prevent health hazards that plastic can constitute.
Odumboni, who was represented by Kunle Adebiyi, said: "As a regulator of waste management in Lagos State, beach cleaning activity is something that we are sustaining and will continue to be ongoing in every corner of the state. The current administration under the leadership of Governor Babajide Sanwoolu is promoting infrastructure that will enhance the collection of plastics in Lagos State. So many activities are going on everywhere and government of the day is reiterating its commitment to support in every means.
"About four years ago we had only three recyclers in the whole of Lagos State when this programme was launched. But, as at today, we have over 150 recyclers and more are still coming on board to register in the informal sector. This is to ensure that the rate of plastic pollution is reduced to the barest minimum in our society.
"As we speak, we have a lot of training activities that have been lined out for the informal sector so that they can key into the benefit of recycling and other waste management solutions. I urge everyone to be solution providers to plastic pollution and not a pollution agent."
In her remarks, Adedolapo Fasawe, General Manager, Lagos State Environmental Protection Agency (LASEPA), noted that LASEPA has improvised in some ways to bring plastic pollution to its barest minimum in the state.
Fasawe, who was represented by Kayode Bello, revealed: "Some of these single use plastics and we have been working proactively on for instance when you come to LASEPA office you cannot see nylon shopping bags again what we have now is carrier bags that we take to buy things at shopping mall now and we have been going round to sensitise a lot of people to tell them that by using nylon shopping bags you are increasing the pollution to the environment.
"In LASEPA office, we now have dispensers with paper cups replacing the use of plastic bottle, all these are done in ensuring reduction the way we use plastic materials. We also introduced the payback for people retrieving plastic wastes from the environment by collecting from them and handover to our consultants for them to be able to dispose for us appropriately. Its only left for us to adapt to it, we also need to make sure that the environmental sustainability is being carried out because if we don't have that culture with us there is a problem but the moment we develop that culture and abide with the recycle, reduce and reuse process, definitely it will not cause any environmental pollution to us again."
The event was put together by Doyinsola Ogunye, Founder of the Mental and Environmental Development Initiative for Children (MEDIC), which saw an attendance of over 300 people and played host to notable environmental advocates including community volunteers and local environmental protection agencies, all coming together, united by a singular vision of a World Without Waste, championed by the beverage company.
Every year, The Coca-Cola System in Nigeria pulls together likeminded partners for a beach cleanup drive focused on eliminating plastic waste debris from beaches, ultimately preserving shorelines of coastal communities. This year, in partnership with the Mental and Environmental Development Initiative for Children (MEDIC), the total beverage company hosted residents and partners.
Dignitaries that graced the occasion included Victoria Uwadoka, Corporate Communications & Public Affairs Manager, Nestle Nigeria; and Arese Oraghese, Executive Secretary, Food and Beverages Recycling Alliance (FBRA); and Victoria Uwadoka, Head of Corporate Communications, Nestle Nigeria, alongside representatives of SWEEP Foundation, FABE Foundation, Nigeria Climate Innovation Centre (NCIC), Growing Businesses Foundation (GBF), Sterling One Foundation and other volunteers.
Highlights of the event featured clean-up activities with participants beings separated into three groups comprising Oyster, Lobster and Pearl with provision of hand-gloves, rakes for them and also presentation of awards to winners.