A group of environmental rights campaigners has called on the government at all levels to enact more stringent laws to help address the problem of indiscriminate waste management in Nigeria.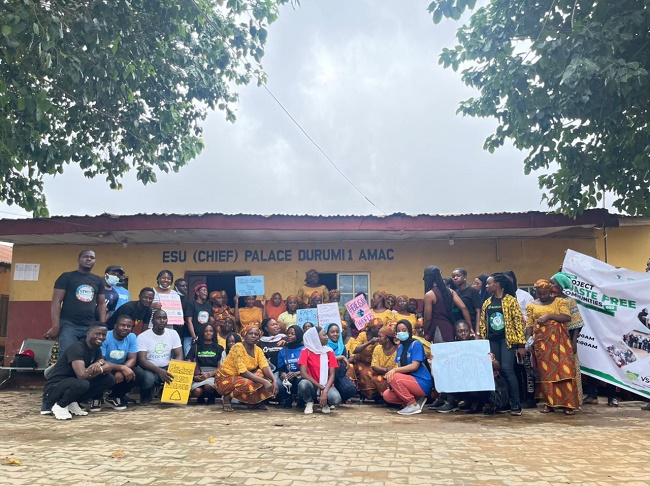 They said public enlightenment should be prioritised as a key component of the regulation to curtail the issue of trash blindness among the citizens.
Speaking on Saturday, September 17, 2022, after a cleanup exercise organised by the body to mark this year's World Cleanup Day (WCD) in Abuja, the Partnership Director, Community Action Against Plastic Waste (CAAPW), Fatima Aliyu, expressed displeasure over the uncontrollable amount of plastic that is being produced in the country.
Her anger is that this unacceptable practice is going on with little or no plan to deal with it.
She disclosed that the search for solutions on how to tackle the menace led her organisation to ally with seven other environmental sustainability networks.
"This is why we need the government to back what we are doing," she said because while other countries are making progress in their efforts to curb this indecent behavior, statistics show that Nigeria is moving backward in its approach to combat the setback.
So, she urged that Nigeria should return to its old economic system where people relied more on nature for survival.
"We need to reorient our people on the need to adopt a circular economy to move forward, Fatima suggested because the linear model that "we are operating is not the best."
Environmental protection, according to her, is everyone's responsibility. For that reason, the environmental crusader appealed to members of the public to be united by this objective to be able to fight this common enemy.
Similarly, the Founder, Young Advocates for a Sustainable and Inclusive Future (YASIF), Blessing Ewa, also agreed that the sector requires new regulations to inspire citizens' positivity toward waste.
Ewa pointed out that if laws that make recyclables expensive are introduced, such regulations will certainly encourage the practice of reuse as a way of life.
"I think putting a rule the checkmate the behaviors of people can move us forward," she believes.
Pius Oko, the Executive Secretary, Lift Humanity Foundation (LHF), observed that one of the biggest problems in the waste industry is the fact that grassroots people who are the actual implementers of these policies are not carried along during their planning processes.
"That is one break between policy and implementation, which is a problem for us," he lamented.
Another predicament worthy of note he highlighted is the issue of budgeting and public accountability for the implementation of waste projects.
He said even though the existing policies need to be reviewed and new ones enacted, they also require funding to support their execution.
Loss and damage, according to him, is another critical area that policy must try to address because inappropriate waste disposal can instigate public health crisis and increase poverty.
The bodies that formed the group include Young Advocates for a sustainable and inclusive future (YASIF), Ecocykle Limited, and Community Action Against Plastic Waste (CAAPW).
Others are FAM4FUTURE, Lift Humanity Foundation (LHF), African Environmental Awareness Initiative (AEAI), Emandes Social Development Network (ESDN), as well as Ecobarter.
They are currently implementing an initiative tagged: "Project Waste Free Communities," to sensitise women at the grassroots on the benefits of proper waste management.
"The aim is to motivate behavior change towards recyclable, the founder of YASIF said. "We visit communities and try to create relationships, which is what the vision is."
By Etta Michael Bisong, Abuja