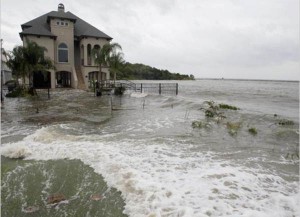 Our planet is fast heating up by the burning of fossil fuels with several tons of carbon pollutants entering the atmosphere everyday through landfills, transportation (traffic), power plants, forest burning, oil exploration & production, fertilizer application, industrialised agriculture, and coal/mining plants, to mention a few. Carbon pollution is disrupting our lives daily and destroying the earth. How long will we continue to live in an unsustainable way? Now is the time to put a price on carbon and implement the "Polluters Pay Principle" in order to combat the growing devastating impacts of climate change.
Nine of 10 hottest years on record in the US were in the past 12 years showing the rapid changes in climatic conditions. There is a thin distinction between the rainy and the dry (Harmattan) season in Nigeria, making it difficult for farmers to predict the production season.
Recently, extreme weather conditions have been experienced globally ranging from flooding in India, Pakistan, Argentina, Taiwan, Philippines, Brazil and South of Nigeria (Lagos, Delta and Ondo); droughts in Arizona, China, India, Spain, South Korea, Senegal, Switzerland and Northern part of Nigeria (Adamawa and Bauchi) and the raging fires in Colorado, Russia, Portugal, Turkey, Macedonia, Texas, also the hurricanes such as Sandy, Katrina, the Typhoon Haiyan in Philippines (one of the strongest tropical Cyclones recorded in history) and other tornados round the world.
Climate change is happening already and influencing our lifestyles; this is a call for action. How can you contribute? Promote clean and renewable energy, which is affordable, reliable and available.
The Climate Reality Project, founded and chaired by former Vice President and Nobel Laureate, Al Gore, is dedicated to providing a global cultural movement that demands action on the current climate crisis. The Climate Reality Project exists to forge a network of global support to create awareness on climate change and promote action. With that foundation, they kindle the moral courage in our leaders to solve the climate crisis.
The Climate Reality Project employs cutting-edge communications and community engagement tools to reach out and stir up proactive action to raise the profile of the climate crisis to its proper state of urgency. With a global movement, more than five million strong and a mass network of Climate Leaders trained by Chairman Al Gore, they promote the climate change conversations in their local community.
The Climate Reality Project operates in eight international offices: Australia, Canada, India, The Climate Reality Leadership Corps has hosted 23 trainings since 2007 in locations across the globe. In 2013, the trainings were held in Chicago and Istanbul. The 2014 trainings will take place in Brazil and South Africa.
By Agharese Ojelede