Resolute to avoid the mistakes of the past, young Nigerians in the environmental space are putting their acts together and making proposals on how they can significantly be integrated to meaningfully contribute to Nigeria's climate ambitions.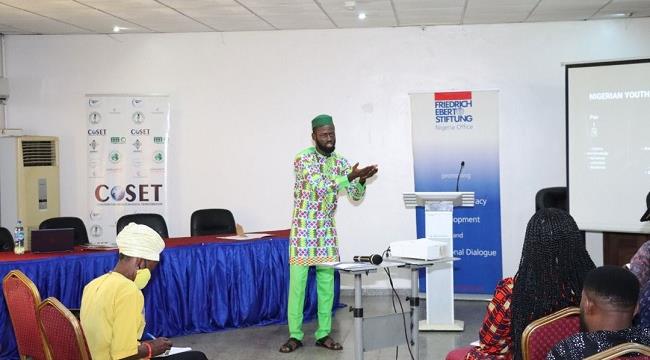 Coming after the UNFCCC's COP26 hosted by the UK Government in Scotland in 2021 and with COP27 scheduled to hold in Egypt later this year, Nigerian youth, like other African colleagues, are evaluating options and positioning themselves to harness the myriad of opportunities the international conference holds for development on the African continent.
At a post-COP26 meeting organised by the Friedrich Ebert Stiftung Nigeria and the Coalition for Economic Transformation (COSET) which took place in Abuja on Thursday, January 20, 2022, climate change experts – including young people from various fields and across the length and breadth of the country – reflected on the COP structure and its effectiveness in addressing climate change-induced challenges predominantly affecting the continent.
In a presentation centered on how the Nigerian youth can get more involved in Nationally Determined Contributions (NDCs) delivery and become better organised for future COP, one of Nigeria's foremost youth environmentalists, 'Seyifunmi Adebote, reflected on previous roles that young people have played in the climate change space and shared action plans that could birth more meaningful youth engagements in the country.
According to Adebote, "the impact of climate change in Nigeria has been more damaging to children and youth consequently increasing the number of climate migrants in this demographic. The NDC enhancement window has created an excellent opportunity to shape the future of children and youth in Nigeria in climate action for, at least, the next five years.
"Since 2017, Nigeria has witnessed a gradual increase in youth engagement as seen in representation, policy document, data collection, training, integration of youth-led innovations. In the second quarter of 2020, Nigerian youths further set a global example hosting the broadest youth-government NDC consultations, with over 300 youths actively participating and 55 signatories that produced youth position/recommendation for Nigeria's updated NDCs," he explained.
Making a call for young environmental actors in Nigeria to have a harmonised framework to engage with government and international community of interest, Adebote, who also hosts the Climate Talk Podcast, urged that "there is no better time than now to create a platform which can serve an umbrella purpose for the hundreds of environment-related youth-led group thus operating as a conduit to scale up innovations."
He added: "The creation of eight different working groups aligned with the NDCs was only the first phase of the task. Operationalising the working groups through a transparent framework, for example, a Youth Climate Council, is where the success begins to count.
"Government on her part should deliberately involve young Nigerians in pre-COP activities, as well as introduce interested youth to the Africa Group of Negotiators (AGN) to play supporting roles like tracking negotiations, researching policy history and documenting outcomes from negotiation rooms.
"Other roles include introducing young Nigerians to collaborate with MDAs and private sector experts in designing policies, localising the implementation of the same, leading research, driving innovation and coordinating technological transfer to adapt to fast-changing climate realities," he concluded.