Gov. Babajide Sanwo-Olu of Lagos State on Tuesday, August 15, 2023, reiterated his administration's commitment to taking giant strides through initiatives in combating the effects of climate change.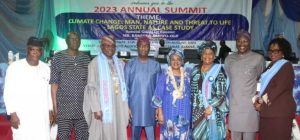 Sanwo-Olu gave the assurance at the 10th Annual Association of Lagos State Retired Heads of Service and Permanent Secretaries (ALARHOSPS) Summit held at Alausa, Ikeja.
The summit had "Climate Change: Man, Nature and Threat To Life: Lagos State, A Case Study" as its theme.
The governor, who was represented by his deputy, Dr Obafemi Hamzat, said that the fight against climate change was a journey, and not a destination.
He said that his administration would work closely with experts, organisations and the global community in ensuring that the state remained at the forefront of climate actions.
According to him, there is still much work to be done since the challenges require continuous innovation, collaboration and adaptation.
Sanwo-Olu said that the state would build resilient infrastructure that would serve as an immediate response to climate change threats.
He added that his administration would ensure that the state had resilient communities and be able to protect vulnerable groups.
"Part of the 38 projects in the climate change plan is to build an 18km embankment and sea walls which will protect over 2.7 million people, 700,000 of whom are vulnerable population, through more partnerships.
"We also plan to attract low-cost public funding and possible commercial investment to support the resilient journey," he said.
The governor said that climate change knew no boundaries, adding and its impacts spared no one.
"The power of collective action will help to create a sustainable and secure future for everyone and generations to come.
"One of the cornerstones of this administration's approach to combat the effects of climate change has been promotion of sustainable practices and policies across various sectors," he said.
The governor urged government agencies, civil society groups, the private sector and the citizens to join hands in combating climate change effects.
In his remarks, Mr Hakeem Muri-Okunola, the state Head of Service, said that the consequences of inactions were dire, as climate change threatened physical surroundings and the well-being of future generations.
He said that changing to renewable energy sources, adopting eco-friendly practices and promoting conservation efforts were steps in the right direction to combat climate change effects.
"Therefore, let Lagos be a beacon of proactive change, a model for responsible co-existence, with our environment becoming a testament to our commitment to safeguarding the earth," he said.
Earlier, Dr Olufemi Olugbile, President of ALARHOSPS, said that the summit was conceived as a mechanism for the association to fulfill its mandate as a think-tank for the government and people of Lagos State.
Olugbile said, "We hope to provide a useful guide on how, we as a society, navigate the terrain that we find ourselves in, concerning this crucial matter."
The highpoint of the event was a Special Recognition Award to the immediate past Secretary to Lagos State Government, Mrs Folashade Jaji, for efforts in making the association more vibrant.
By Oluwatope Lawanson