Catholic Archbishop of Abuja Archdiocese, Archbishop Ignatius Kaigama, has directed Catholic institutions and parishes in Abuja to plant no fewer than 10 trees to conserve and protect the environment.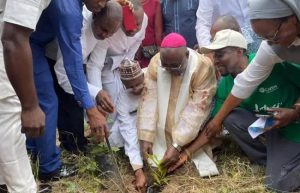 Kaigama, who gave the directive at the inauguration of Tree Planting/Growing Campaign organised by the Justice Development and Peace Commission (JDPC) of the Abuja Archdiocese on Friday, August 25, 2023, explained that the environment has been kind to humans, providing food, air among others hence the need to preserve it.
The archbishop said that the only way to be grateful is to be able to take care of the environment as clearly canvassed by the Holy Father, Pope Francis.
Kaigama said that the Catholic Bishops Conference of Nigeria (CBCN) have mandated that everyone should be involved in tree planting.
According to him, they stipulated that every diocese plant at least a minimum of 20,000 trees.
The bishop said that the Abuja archdiocese can surpass the minimum target of 20,000 trees saying that the archdiocese have many churches, schools and hospitals.
"We have many schools, we have hospitals, we have out stations, not just the parishes if all the other stations will only plan five threes. We have huge numbers.
"So we hope that everybody at least for now, start with planting 10 trees for all the chaplaincy and the pastoral areas, should plan at least 10 tress; you can plan more do not go below 10," he said.
Kaigama said that tree planting has enormous benefits for Nigeria as it has the capacity to address herders/farmers crisis which has claimed many lives and property.
The archbishop, who blessed and planted trees as an example for all Nigerians to follow, said that, like the gospel, the message of tree planting will continue to be spread until it becomes a lifestyle.
The Permanent Secretary in the Federal Ministry of Environment, Mr Yussuf Idris, said that trees are the lungs of the earth, purifying the air and giving fresh strength to people.
He explained that trees are indispensable to life and no man can live without trees stressing that need to sustain tree playing.
"We are all aware of the current high rate of deforestation in our country. Nigeria's forest resources are being currently depleted between 3.7 per cent to 4 per cent annually making it one of the highest in the world resulting in climate change, flooding, soil degradation, biodiversity loss among others.
"The Federal Ministry of Environment is at the forefront of confronting this great challenge through our afforestation and reforestation programmes, policy formulation that promote biodiversity conservation.
"Currently, we are working towards the enactment of the National Forestry Act which we believe will strengthen enforcement of the National Forest Policy and many more," he said.
He called on corporate organisations and individuals to complement government's effort in restoring the fast degrading environment through planting trees.
He urged all Nigerians to emulate the JDPC to mitigate climate change which is ravaging the entire globe.
In his remarks, Josephat Abaagu, Chairman, JDPC-Abuja, said that protecting the earth is crucial because it sustains all life, and provides resources and a stable environment.
He said that tree planting as a way to protect the earth and plays a major role in combating climate change.
According to him, trees absorb carbon dioxide, provide oxygen, prevent soil erosion, and support biodiversity.
"Protecting Earth is of paramount importance as it serves as the only known habitat that can support life as we know it.
"Our planet provides us with essential resources such as clean air, water, food, and a stable climate.
"It is not only the home to humans but also countless other species, each contributing to the intricate web of life that has evolved over millions of years.
"As stewards of this planet, it is our responsibility to ensure its well-being for current and future generations," he said.
Also, the Project Director, Catholic Agency for Oversea Development (CAfOD), Mr Edozie Abazie, said that tree planting mitigates the effects of climate change.
According to him, planting of tree is one of the most important things that can be done to protect the environment
"We must take an intentional decision to protect our environment by putting an end to tree felling and to go beyond the target directed by the bishop to plant more trees," he said.
He said that CAfOD is in partnership with JDPC to produce solar powered machines called brickwet that will produce charcoal from biomass for domestic energy production as against tree felling.
Abazie said that the partnership also included planting of 1,000 trees across the Federal Capital Territory (FCT).
By Bridget Ikyado