A climate change expert, Dr Akanimo Odon, has said that Africa stands a chance to benefit from her low emissions into climate change through carbon crediting.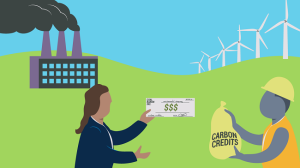 Speaking on Tuesday, September 12, 2023, in Okada, Edo State, he said that Africa could trade on carbon for huge money.
Odon, who is the Head, African Partnership, Lancaster University, United Kingdom, said it was high time African nations shift more to renewable energy to maximise benefits from climate crisis.
"Because Africa is not contributing a lot to carbon emissions, Africa is in a unique opportunity to benefit from the global forum where you can actually trade on carbon.
"We have the best opportunity to be renewable in our activities and in our system and to also offer new opportunities," he said.
According to him, through carbon crediting such as planting of trees to absorb carbon, African countries could earn money for saving the planet.
He, therefore, urged individuals and corporate organisations to raise awareness around these benefits, so that the continent could draw from these benefits.
By Usman Aliyu