To reduce climate change burden, Teku Farm in Kaduna State has embarked on planting of new tree species that are resistance to hot weather, especially in desert prone areas.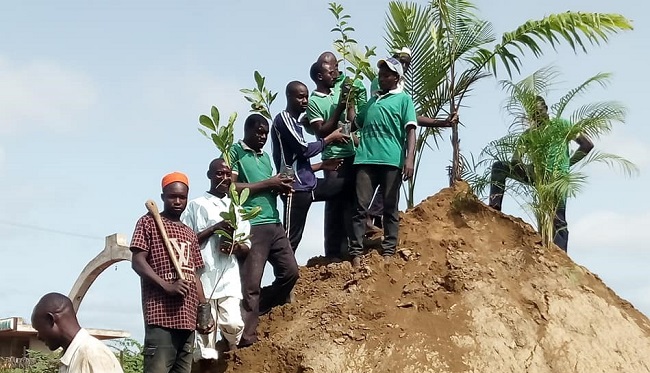 Ibrahim Salisu, Managing Director of the farm, said this on Tuesday, July 16, 2019 in Kaduna, the state capital, while speaking to newsmen during one of the tree planting exercises.
He said that deforestation, desertification and other environmental degradation due to cutting down of forest trees for domestic use posed serious harm to human, animals and the society.
Salisu said that increased extraction of natural resources and use of timber trees for industrial construction across all the 19 northern states without planting new ones was seriously affecting that part of the country.
According to him, the aim of the exercise is to plant more trees that are resistant to hot weather and temperature in the desert for the purpose of having more forest to reduce desertification in the region.
He said Teku farm had introduced a new way of planting trees on desert land and hills with the aim of increasing trees to reduce global warming and environmental challenges affecting human, animals and plants.
Sailsu said that as trees grow, they help to minimise adverse effect of climate change by removing carbon dioxide from the air, storing carbon in the trees and soil, while releasing oxygen into the atmosphere.
"Trees cool the air, land and water with shade and moisture, which reduce the heat-island effect of urban communities, the temperature in urban areas is often nine degrees warmer than in areas with heavy tree cover.
"Growing more plants reduces the heat in cities across the country and these can help toward reducing climate change and global warming that is affecting every aspect of human life," he said.
The farm planted some traditional trees and created awareness on the importance of trees in the community, especially their health benefits.
The trees include "Dogon Yaro", "Darbejiya", 'Dinya' and "Madaci" in Hausa.
In his remark, Dr Yusuf Nadabo, the Patron, African Climate Reporters, expressed gratitude to Teku Farm for embarking on the project, targeted toward reduce global warming.
Nadabo called on environmental groups to be more committed in supporting the fight against adverse effects of climate change and other environmental challenges.
Nadabo urged the public to embrace renewable energy as the ultimate alternative.
He, however, called on the Federal Ministry of Environment to be more committed in raising awareness on the dangers of bush burning, illegal mining and the side effects of deforestation.
By Ezra Musa