It is late afternoon and the September heat is taking its toll on some portions of Moroson Hakakwale's vegetable garden.
Hakakwale, who is village headman at Hajunza in Pemba district of Southern Zambia, engages in gardening especially during summer when it is off-field activity season in this Southern African nation.
"Off season gardening has become critical to our survival as smallholder farmers here. With frequent droughts, we have no option but to diversify into gardening for food and income security," Hakakwale says.
Between May and October, most families here target wetlands in and around water bodies for easy irrigation of their vegetable crops which they sell for income to purchase additional staple food-maize, in case of field crop failure, which, according to Hakakwale, "has become perennial".
Hakakwale believes smallholder farmers, who contribute over 90 per cent to the country's food basket, have the potential to continue doing so even in the face of climate change if only sustainable irrigation solutions were introduced.
"Our greatest challenge is erratic rainfall. Since 1995, droughts have become more frequent.  Our production levels keep on going down. We have heard of climate change but we are seeking sustainable technologies to avert this problem, otherwise, hunger will remain a password in our homes because our agriculture is rainfall-driven," he says.
He says the diversification programme where farmers are encouraged to venture into growing different crops such as vegetables for income would only make sense through sustainable irrigation technologies.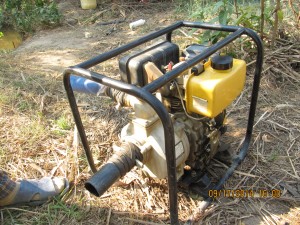 The village headman bemoaned that the early drying up of streams was frustrating the diversification cause especially the off-season gardening.
"For me to survive in gardening up to now, I had to get an $800 loan to purchase this diesel powered irrigation pump," Hakakwale points at his water pump which he bought last year.
He stated that, without the pump, he would have joined other frustrated farmers who get into the charcoal making business, believed to be an instant money spinner owing to the huge demand for fuel wood in Zambia standing at over 80 per cent.
"But you know, loans are not easily accessible by smallholder farmers due to collateral issues which most of us don't have. I had to be recommended by an NGO to be given the money.
It is for this reason that we seek government's intervention to come up with mechanisms to help us through irrigation loan schemes for example, equipment for harvesting rain water and other technologies that are simple and affordable by all," he explains.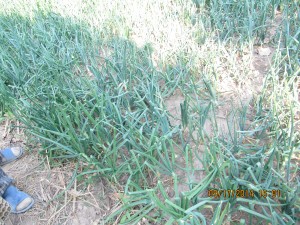 Africa can feed Africa Now: Translating Climate Knowledge into Action, was the running theme for the Fourth Conference on Climate Change and Development in Africa-CCDA IV held in Morocco from the 8th-10th of October 2014.
Delegates deliberated on the potential impacts of current and future climate change on African agriculture in a bid to identify ways to adapt to and mitigate the adverse effects, in order to enhance agriculture's performance and sustainability.
Just as Hakakwale has highlighted the role of irrigation, experts also identified it as a key factor to Africa's Agriculture growth and potential to feed itself.
Ken Johm of the African Development Bank (AfDB) said Africa would not make any meaningful gains in agriculture without investing in the untapped potential of irrigation.
Johm,  who is Coordinator for Special Initiatives and Lead Economist for Agro-Industry Development, believes that "irrigation development is very important if there is going to be transformation of African agriculture." He pointed out that the current statistics showing that only three to five percent of arable land is irrigated in Africa are a serious concern.
Zeroing down the situation to Zambia, the statistics above are not far from the truth as it is estimated that, out of 523,000 hectares (ha) that could be economically developed through irrigation, only 340,000 ha of land is irrigated in Zambia.
It is out of this realisation that the government of the Republic of Zambia, with support from the World Bank, is implementing a $115 million irrigation development and support project (IDSP) targeting small-scale and emergent farmers.
According to the project concept, it targets to provide bulk water infrastructure through construction of dams, establishment of canals and irrigation schemes with different irrigation equipment emphasizing on low to medium cost pumps for affordability purposes considering the target group.
And Kebby Kabunda, a Humanitarian Program Coordinator at Oxfam Zambia, agrees that climate change adaptation solutions among which is irrigation, should be devised in accordance with the needs of the local communities.
"For us at Oxfam, we believe in the grassroots approach and that is the message we are taking home," Kabunda told me on the sidelines of the CCDA-IV in Marrakech, Morocco, emphasising the need for appropriate technologies that suit the needs of the local people.
With the launch of a €33million ClimDev Africa Special Fund by the African Development Bank (AfDB) to support climate change initiatives on the continent, climate change activists  and farmers alike are hoping for their active involvement in designing projects that directly answer to their adaptation challenges.
"All we are saying is that the locals must always be taken on board in these projects to avoid failure," Robert Chimambo of the Zambia Climate Change Network says, pointing out that board room decisions have most often than not, proved futile in addressing people's challenges.
By Friday Phiri (Lusaka, Zambia)