The 78th session of the United Nations General Assembly (UNGA78) may have come and gone but the debates and the representations by the global leaders continue to shape the path to commitments and development. In his opening remark, the UN Secretary-General said, "Action is what the world needs". That indeed captures what the world must focus on – more action and less talk.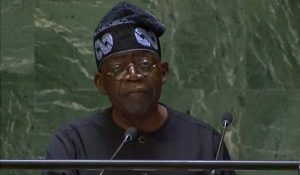 On September 20, 2023, the President of Nigeria, Bola Ahmed Tinubu, harped on six important points: (i) the need to see Africa's development as priority through partnership, (ii) direct investment in critical industries, (iii) affirm democratic governance in Economic Community for West African States (ECOWAS) region, (iv) human trafficking, (v) securing the mineral rich areas in Africa, and (vi) Climate Change.
While some have called the president's speech bold, he only spent a few minutes on climate change and the approach African countries will take to address it. According to the president, efforts must be aligned with global collaboration based on Africa's unique requirements, particularly as it intersects with climate change and the continent's growth.
Even though President Tinubu's speech amplified the Great Green Wall Initiative, desert encroachment and flooding, the speech was however silent on specific steps being taken to combat these menaces, and he did not propose new actions Nigeria is taking to accelerate climate action and by extension how the country – the giant of Africa – intends to show leadership within the continent in driving up climate action including strategic approach to meeting its Nationally Determined Contributions (NDCs).
Recall that during UNGA76, former President of Nigeria, Muhammadu Buhari, had committed to building a climate-resilient economy fully aligned with the Sustainable Development Goals (SDGs). President Buhari would at COP26 in Glasgow commit Nigeria to attaining net zero by 2060, and later proceeded to sign into law the Climate Change Bill. At UNGA77 in 2022, President Buhari again reiterated that Nigeria would not make the same mistakes developed countries made which brought about the climate crisis but went ahead to challenge developed countries and Multilateral Finance Institutions to do the right thing.
One would expect that Nigeria will follow the path of this statement by the former president. Sadly, there has not been a clear statement that climate action will be pursued with urgency and deserved vigour.
In all fairness, President Tinubu has taken some actions which align with acceptable global climate action – removal of petroleum subsidy; signing into law of the Electricity Act 2023 which liberalises the industry and provides a major boost to investments in renewable energy. We have also seen his choices on important appointment of Special Advisers into the National Economic Council (NEC) and Climate Change. Yet, it is sometimes hard to fathom any clear direction as to how his administration intends to up the ante in the fight against climate change.
While the President's speech at UNGA78 lands some good points, it was somewhat a missed opportunity to demonstrate leadership and the prioritisation of Nigeria's action on climate change which is extremely relevant to achieve his bold sustainable economic development plan for Nigeria and Africa.
Similarly, the president's absence at the Africa Climate Summit was a great miss for Nigeria to show leadership and stand side by side with her African brothers to take a unified position on critical climate change issues such as adaptation, loss and damage, renewable energy, and climate finance.
The UNGA78 platform should have been leveraged to galvanise continental action and demand accountability but Nigeria failed to do that.
But it is not too late for the Tinubu administration to course-correct.
As the world builds up to COP28, with Africa and the friends of Africa championing the truth that Africa presents the world with a solution to the climate crises, all eyes again will be on the Nigerian government to firm up its plans and reach out to the African Group of Negotiators and other Heads of Governments, and lead from the front by sending a high-powered delegation to the negotiations while holding several bilateral meetings to hold developed countries accountable.
Prior to that, Nigeria must now take a decisive action by committing a significant percentage of the savings from petroleum subsidy savings to innovative climate action that intersects with the sustainable development of the country. Such a commitment will send a strong signal to global climate leadership and motivate others to emulate.
Another decision will be to create a concrete path for Nigeria to industrialise in order to tackle most of its pressing developmental problems. This should include presenting an equitable and sustainable phase-out of fossil fuel plan to avoid being left with stranded assets, or worse deeper poverty.
African countries, led by Nigeria, must therefore see climate action as a critical and indeed ever-present staple of their governments' priority policies. Any African government not prioritising that, has set out from the very beginning to fail its people and that will be sad.
By Professor Chukwumerije Okereke and Nnaemeka Oruh
Professor Chukwumerije Okereke, a Professor of Environment and Development, is the President of the Society for Planet and Prosperity (SPP); Nnaemeka Oruh is a Senior Policy Analyst for the SPP