The Executive Director, FCT Rural Water Supply and Sanitation Agency (RUWASSA), Dr Mohammed Dan-Hassan, has said that clean and safe toilets will ensure human dignity for millions of Nigerians.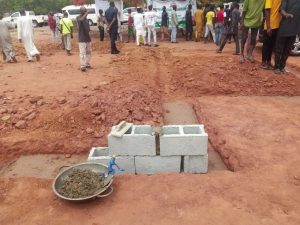 The director stated this on Tuesday, May 10, 2022, at the ground-breaking ceremony for mass construction of public toilets across the Federal Capital Territory (FCT), aimed at ending Open Defecation (ODF) in the city.
He described ODF as a matter currently receiving not just national, but global attention, adding that the FCT administration through RUWASSA was determined to end the menace and promote proper hygiene.
According to him, 2.4 billion people lack access to improved sanitation facilities globally with about 1 billion people who practise ODF around the world.
The director also disclosed that 39.4 per cent of the FCT population is involved in ODF practices, with a promise to change the narrative.
He stated that access to adequate sanitation and the practice of ODF were global issues that go into the heart of his agency's development objectives.
Dan-Hassan listed some of the issues which are caused by ODF spread of disease, threaten the security of women and girls, as well as contribute to malnutrition figure.
Another one, according to him is diarrhea caused by unsafe water, poor sanitation and hygiene affecting the lives of children each day.
According to him, improving access to sanitation and ending the practice of ODF can translate to fewer hospital visits, child death and missed school days.
Dan-Hassan stated that every one U.S. dollar spent on sanitation could give a return in investment between 9 U.S. dollars and 40 U.S. dollars, adding that Nigeria loses N455 billion annually due to poor sanitation.
Mr Nicholas Igwe, National Coordinator of Organised Private Sector in Water Sanitation and Hygiene (OPS-WASH), in his goodwill message thanked the FCT Administration for inaugurating the project saying that it was a welcomed development.
According to him, efficiency is key to achieving the momentous goal in ending ODF by the target year of 2025, and that the was a move in the right direction.
Igwe called on the 36 states to emulate the idea by locating public toilets in their various states to complement the Federal Government's efforts in ending ODF and to have a cleaner and healthier Nigeria.
Meanwhile, the Minister of State for FCT, Dr Ramatu Tijjani-Aliyu, has directed RUWASSA to accelerate action on ending ODF and to put in place other sanitation and hygienic measures in the FCT.
The minister also disclosed that the public toilets would be manage by a non-governmental organisation (NGO) to ensure proper maintenance.
By Aderogba George