Solving the problem of global climate change is impossible without huge shift in private sector investments, since this sector represents trillions of dollars with vast majority of economic activities around the world.
This is the view of Civil Society in contributing to a discussion at the ongoing climate change talks in Lima, Peru.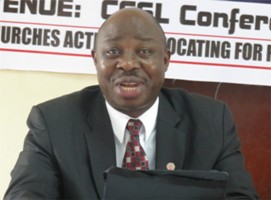 According to Dr. Thomas Jallah of the Pan-African Climate Justice Alliance (PACJA), what is needed most is policy changes and regulations particularly in developed countries "to shift private investments from brown to green".
"National governments could do far more to shift incentives so that trillions of dollars of private investments will flow to sustainable climate-friendly activities," he said.
Such measures, Dr. Jallah noted, may include strong legally-binding emission targets, output limit and scaling down fossil fuel power stations.
Business and industry groups attending the COP20 say they strongly support the works of the parties to address climate risks to emission mitigation and adaptation.
"We welcome the targets taken on by the EU and those announced by the US and China" said representative, Miles Austin. "We hope to see far more progress in the short term and encourage you to ensure the markets can make their fullest contribution and the private sector investment and action is capitalized to the utmost."
The Business and Industry (BINGO) Day at the COP20 presented the activities and messages of business and industry organizations concerned about the potential impacts and opportunities presented by the negotiations.
By Kofi Adomfeh