The quest for renewable energy is more of an opportunity for Africa than a cry for help to shift, a workshop to consolidate the civil societies' voice ahead of this year's African Ministerial Conference on Environment (AMCEN 2019) has been told.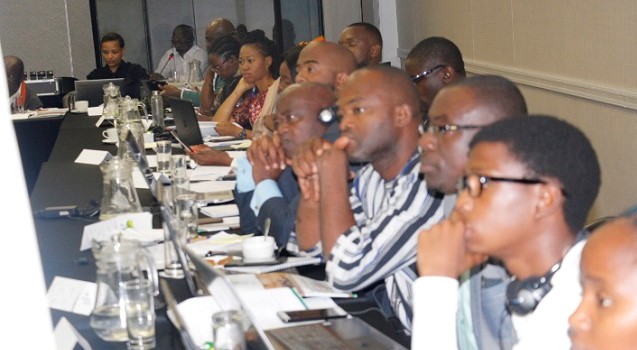 "Unless and until people are involved in solving the problems they face, this is a war in futility," speaker after speaker seemed to reiterate.
Addressing a gathering comprising civil society organisations led by the Pan African Climate Justice Alliance (PACJA) in Durban, South Africa on Friday, November 11, 2019, Augustine Njamnshi urged champions of clean energy to emphasise the need for African governments to remember many of their citizens had no access to any energy and take advantage of the opportunity to address that need, starting with the cleaner and more renewable options.
Mr Njamnshi, a co-founder of PACJA and Coordinator of the Africa Coalition for Sustainable Energy and Access (ACSEA), said that the problem was not just funding, but letting African leaders know their roles in rescuing the planet through their decisions and actions.
"Increased investment on renewable energy is key. We have discussed so much on renewable energy that our voices are getting hoarse. Now we need a clear strategy on deepening and strengthening energy access, starting with the cleanest," said Mr Njamnshi.
He also gave a brief history of ACSEA, explaining why it was necessary for PACJA. "We need to begin to actively participate in the politics of renewable energy," Njamnshi said, adding: "ACSEA is a key tool to use in this pursuit, and there is need to strengthen it".
According to Njamnshi, the need to set the agenda on clean energy access cannot be overstated.
ACSEA is now out to achieve a more people-centred energy transition in Africa through engagement of civil society organisations. The project is being done in partnership with the German Watch. Botswana, Cameroon, Morocco, Kenya and Nigeria have been chosen as the contractors of the project, through organisations that have previously shown interest in the kind of initiative.
PACJA Executive Director, Mithika Mwenda, while addressing the same workshop, reminded participants that tackling the climate crisis needed focus on all sectors, key among them energy and its access.
Mithika underlined the need to incorporate communities in the climate crisis fight. "What the west and the north consider the best ways to address the climate crisis may not be the best for Africa, especially developing countries. This is why you need to involve the people, because they are the implementers," he said.
Mithika reemphasised the need to start on a clean slate in improving energy access for African communities, saying that was an opportunity.
"We cannot be talking about shift to clean energy, yet even the dirty one is not adequate for communities to use. Let policy makers be made to start with renewable energy when reaching the unconnected," Dr Mithika said, adding:
"Only we can solve our problems. The community in Kenyan Lamu County did it. They fought off the government from implementing a coal project. We joined in this fight as well, and have gone to the US, to the African Development Bank, and convinced them to stop investing in the coal.
"We held massive demonstrations in Kenya, to the extent the Chinese Government got uncomfortable and called us."
Mithika said it was impossible to talk about climate justice without touching energy.
"There is opportunity in Africa to start our energy access on a clean pathway. We must abandon fossil fuels. And this is the spirit of ACSEA," he said.
Mithika reminded participants that dirty energy sources, such as coal, were unsustainable. "AMCEN attendees are our policy makers. AMCEN must not be on environment only. Even that coal causes environmental pollution," said Mithika.
He urged African countries to be wary of developed countries that were not genuine. "Donald Trump has not implemented any coal project in America, as coal is no longer making any investment sense. Why is Trump interested in it being in Africa," Mithika posited.
He reminded participants to bear in mind that the AMCEN meeting would be attended by, among others, finance ministers, who must be made aware of the many business opportunities in renewable energy.
"This is the language they (finance ministers) want to hear, and it is the truth. Let's tell them," Mithika said.
The meeting was in consensus that there was need to cultivate a stronger relationship with those who made decisions on energy and other pertinent matters.
Also addressing the workshop was Philip Akelo of Christian Aid, who said PACJA had been a close partner for years.
"In 2013, people were talking about having any energy for more than 600 million people. We, however, should advance the discourse to starting with the cleanest of energy sources for those who have nothing," he said.
Njamnshi reiterated Mr Akelo's assertion that the argument that Africans lacked energy and that any form, whether clean or not, would address the need, must not be allowed to reign supreme. "Let's just start on a clean slate when increasing energy access. We cannot, however, do this without addressing the policies and the resources."
He said ACSEA was keen on interrogating and shaping investment on renewable energy.
Mr Akelo said energy was very key in tackling poverty and climate change. "God has blessed Africa with several renewable energy sources, which we can use to advance our energy access. We must, however, start on the right footing," he said.
WWF's Tom Opande told the meeting CSOs were very key in advancing energy access.
Africa, according to Njamnshi, has so many renewable energy initiatives, but which many might not be aware of. Some, he said, may have outcomes that are not friendly to the environment. He called for involvement of communities.
"If communities are not involved, the results might not be for them. This is why you need CSOs in all such initiatives. It has to be owned by the people, or it will collapse," said Njamnshi.
He added that it was not enough to ensure renewable energy reached the people. "It is better to follow up and ensure you know how the energy works for them," Njamnshi added.
Renewable energy offers an opportunity for a proper energy transition, while at the same time dealing with the climate crisis, the workshop was told.
"We have to Africanise solutions to our energy problems," Njamnshi concluded.