The Nigerian Tobacco Control Research Group (NTCRG) and the Environmental Rights Action/Friends of the Earth (ERA/FoEN), in collaboration with the African Tobacco Control Alliance (ATCA), will on Thursday, October 19, 2017 at the St. Paul's Anglican Church Hall in Yemetu, Ibadan, Oyo State, present a national research that shows how tobacco companies strategically situate tobacco products and advertisements near primary and secondary schools with the aim of enticing kids to experiment smoking.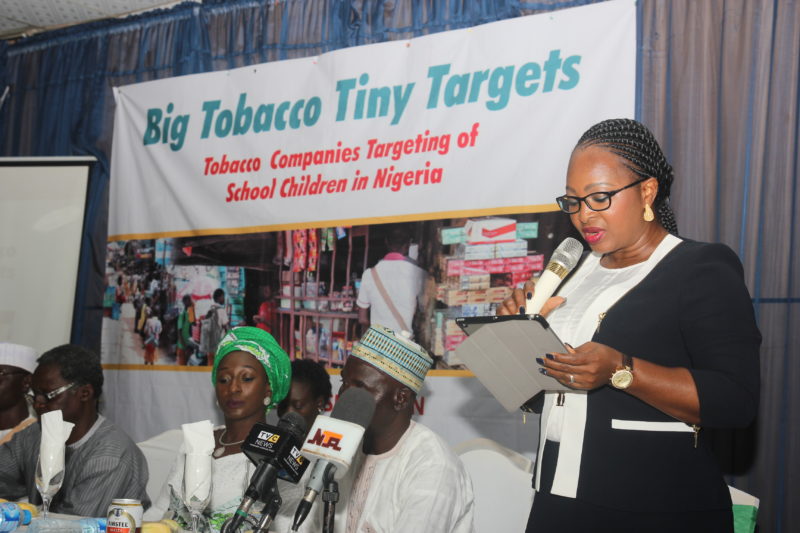 This  is a follow-up to the presentation of the same report in Abuja on Wednesday, October 17, 2017.
The research, titled "Big Tobacco: Tiny Targets Nigeria Report", exposes widespread sale of tobacco products along paths of primary and secondary schools in five states where there was also alleged deliberate display of tobacco products next to sweets and drinks, making them easily accessible, and sales of single tobacco sticks at very affordable rates, among other tactics of getting children to smoke and ultimately addicted.
Specific examples from Lagos, Nasarawa, Enugu, Kaduna and Oyo states are documented in the report, including visual evidences.
The report urges government to take action and made some specific recommendations including the need for urgent passage of the regulations guiding implementation of the National Tobacco Control (NTC) Act 2015 by the National Assembly; and  Proactive prohibition of placement of tobacco products within 100m of any educational institution by the federal, state and local education authorities.
It demanded the enforcement of the comprehensive prohibition of tobacco advertising promotion and sponsorship (TAPS) and the setting up of a Framework for monitoring the implementation of the ban on single sticks and cigarettes packs with less than 20 sticks as detailed in the NTC Act 2015.
At the public presentation in Abuja, Hilda Ochefu of the Campaign for Tobacco-Free Kids (CTFK) said tobacco use is the single most preventable cause of deaths and that the tobacco industry deliberately targeted kids as replacement smokers.
Ochefu said the report captured the strategy of the tobacco industry to entice and get kids addicted to smoking hence the need for the immediate enforcement of provisions of the NTC Act announced by the Minister of Health, Professor Isaac Adewole, which included ban on single stick sale of cigarettes and ban on smoking in public places.
Giving a summary of the report, Dr. Akin Adebiyi of the NTCRG said it involved a survey of 221 schools across the five states where the situation of point of sale and other tobacco inducements were prevalent. He explained that the report would guide government in taking concrete steps to save the young generation of kids that the tobacco industry wants to addict from embarking on the dangerous experimentation of cigarettes.
Participants at the public presentation of the report included representatives of the Federal Ministries of Health, Education and the Ministry of Labour and Employment, anti-tobacco groups, and the media, among others. Venue of the public presentation was the Merit House, Abuja.