The long history between the Forestry and Environmental Research Development and Innovation Agency of the Government of Indonesia (FOERDIA)and the Centre for International Forestry Research (CIFOR) stretches back to 1997, when the two organisations began their partnership, and now a new chapter is added.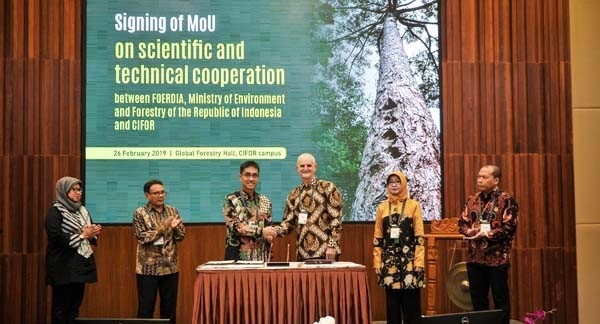 On Tuesday, February 26, 2019 at the CIFOR Bogor campus, CIFOR Director General Robert Nasi and FOERDIA Director General Agus Justianto signed a new Memorandum of Understanding between the two organisations, certifying and extending the relationship.
"CIFOR and FOERDIA have a long history of working together, starting in 1997 in the Bulungan Research Forest. This renewed Memorandum of Understanding is a confirmation of our joint interest in sustainable forest management in Indonesia and a crucial step in our long-lasting partnership," said Nasi. "I look forward to our continued joint effort to give Indonesia forests the prominent role they should play in contributing to the achievement of national objectives and of the Sustainable Development Goals."
Justiano followed up with keynote remarks on behalf of Indonesian Minister of Environment and Forestry, who was scheduled to attend.
"I expect both of parties will mobilise science into action and also translate international movements for people's welfare," he said on Minister Nurabaya's behalf.
The MOU will cement CIFOR and FOERDIA's ongoing cooperation in several areas, including sustainable forest management, forest and tree-based value chains, and social forestry.
FOERDIA is government research and development agency affiliated with the Indonesian Ministry of Environment and Forestry and is responsible for designing and formulating environmentally related technical policies, plans, programmes. CIFOR is an international, non-profit, forestry research organisation based in Bogor and part of the CGIAR research group.
ITPC interim secretariat office opens at CIFOR
The International Tropical Peatlands Center (ITPC) is one step closer to ensuring that policy makers, practitioners and communities have access to sound, credible and legitimate information, analyses, and other tools needed to design and implement conservation and sustainable management of tropical peatlands, after the official opening of the ITPC interim secretariat.
During the MOU signing, the two director generals cut the ribbon on the new office, which is located on CIFOR's Bogor Campus.
The ITPC interim secretariat oversees making connections and setting up the framework to launch officially launch ITPC later this year. The ITPC will serve as a cooperative go-to space for leading-edge scientific research into strategies, practices and policies to support tropical peatlands management.
The event also included a brown bag discussion, "Social forestry and forestland tenure in Indonesia: Four years of challenges (2015-2018)," which featured experts discussing the challenges, current situation and next steps for social forestry in Indonesia.