Hauwa, 16, is from Maiduguri, the capital of Borno State in northeastern Nigeria, a region blighted by years of Boko Haram insurgency. She says fear is with her daily, dictating how she lives.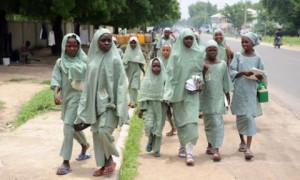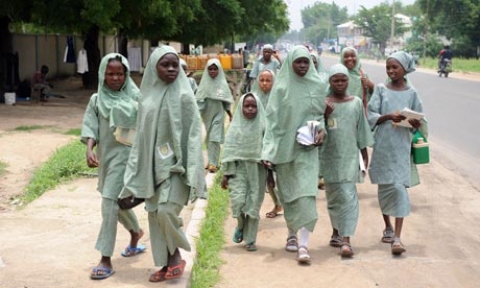 "I'm scared of walking along roads on my own because I don't want to be raped for the second time," she told me on the day I met with families affected by the Boko Haram insurgency in Maiduguri. Borno State as a whole has borne the brunt of the violence that has lasted for more than five years in northeastern Nigeria.
During four days in late October, I was on a mission to encourage reluctant parents in Maiduguri to send their daughters to safe schools working through traditional leaders, youth leaders and the local media as facilitators. In those four days, I met girls who told me they were scared of returning to school because they fear they could be attacked by anyone, including their male teachers. Because of their ordeal in the hands of militants, some of whom they identified as neighbours, they are unwilling to trust anyone.
"I don't know where my next attacker could come from," a young girl told me. "I just don't trust anyone, not even my teachers."
Since the ongoing crisis, life has never been the same for kids living in the region, as every facet of their lives has been affected by the insurgency.
Children no longer feel safe even in their homes. They also fear going to public places like markets, streams, farms and social gatherings for fear of being attacked or forcibly conscripted by Boko Haram.
As many public schools in the northeastern Nigeria are now closed, many students now hawk wares on the streets, and some have turned to criminal activities. The situation in the few still-open private schools is no better, as most parents are scared of sending their children there.
The insurgency itself has set back education in an area that is grossly underdeveloped and with a high rate of illiteracy. Since 2012, Boko Haram has burned more than 300 schools in the north and deprived more than 10,000 children of an education. In a particularly gory attack in July, suspected armed Islamists killed 42 pupils and teachers and burned down a government-owned boarding school in Mamudo village, Yobe State.
Figures released by Human Rights Watch indicate that more than 5,000 people, mostly adults have been killed since the insurgency began in 2009. As parents are lost in fighting, more and more children are without families and homes.
Living with fear of being killed, and without anyone to turn to for protection and assistance, many orphans have joined the recruitment of armed conflict. The militia life has become more attractive to the children, who see a possible future of survival with their fellow soldiers. In most cases, these young soldiers from ages 12 to 16 come from communities where there are no schools to attend and no jobs to work and destitute families. Every year the number of child soldiers grows as more children are recruited into active combat.
Moreover, the continuous influx of Internally Displaced Persons into major towns in the region have increased the number of beggars on the streets, a situation that forced some of them – especially girls – into prostitution to make ends meet.
Millions of dollars, thousands of people's efforts, and several months have all been spent trying to secure a lasting peace in northeastern Nigeria. But these efforts have not gone far enough. A lack of coordination, corruption in some quarters, and insufficient access to those most in need all make achieving well-being by children difficult, but not impossible.
For many children in these communities, education remains their surest way out of poverty and destitution. "I want to enjoy the life I had before the insurgency," said Umar, 16. "I want to be able to go to school without the threats of insurgent attacks."
Unfortunately, the fear of Boko Haram has forced many parents to withdraw their children from schools, and this can only add to an already explosive mix of the large pool of uneducated and unemployed youth and debilitating poverty.
Just four days spent in the heart of Boko Haram insurgency made me realize that protecting schools alone, even with the best trained military personnel, wouldn't be enough to encourage every child to return to the classroom. They need a different form of home education that will help them cripple fear and rebuild their trust in the society.
By Philip Obaji (founder and general coordinator for the 1 GAME Campaign which promotes basic primary education for vulnerable children in Nigeria. He also started a community project, Off The Streets, for street children who are facing challenges of exclusion from school, ignorance, recruitment into insurgent groups, neglect and abuse.)