Its champagne on the Island of Madagascar as their Football Association president, Ahmad Ahmad, has been elected president of the Confederation of African Football (CAF).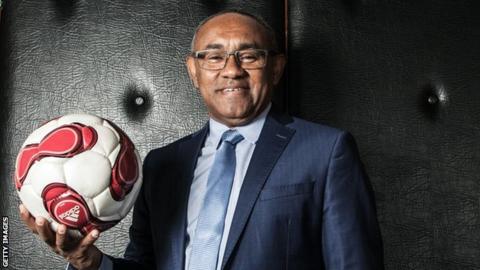 The party stemmed from the defeat Ahmad handed down to Issa Hayatou, which ended his 29-year reign as CAF president.
Ahmad polled 34 of the 54 votes casted in the election, which was held Thursday, March 16, 2017 at CAF 39th General Assembly in Addis Ababa,capital of Ethiopia.
The 57-year-old, who appeared emotional, became only the seventh CAF president in the CAF's 60-year history.
"This is a sweet victory as we have worked hard for years and months," said elated Ahmad.
Ahmad, who became Madagascar FA chief in 2003, takes over as CAF president on an initial four-year term and has promised to modernise the body and make it more transparent.
Hayatou has been in power since 1988, when he replaced Abdel Halim Mohammad, and has over seen significant growth in the Continental game and in CAF's standing within the global football community.
The Cameroonian who as a result of this defeat will lose his position on the ruling Council of FIFA, was led from the auditorium by aides who ignored requests for comments from the media.
By Felix Simire