The Earth Day Network has taken up a campaign to convince the government of Zimbabwe to stop issuing hunting permits that result in thousands of animal deaths each year. One of such permits was issued to hunt vulnerable animals like Cecil.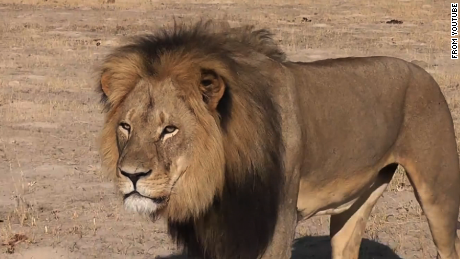 An American dentist, Walter Palmer, paid $55,000 to shoot and kill the 13-year-old vulnerable lion in Zimbabwe.
Hunting is illegal inside Hwange National Park, Zimbabwe. Palmer and his guide lured Cecil out of the sanctuary using an animal carcass as bait.
They shot him with a bow and arrow, and then tracked the wounded lion for 40 hours before killing him with a rifle and skinning and beheading him.
Cecil was a symbol of the success of Hwange National Park and beloved around Zimbabwe for his distinctive black mane.
Cecil's death has ignited a movement to save other vulnerable animals, leading to a global refrain calling on Zimbabwe to stop issuing permits that allow vulnerable animals to be hunted and killed.
The Earth Day Network states: "A hundred years ago, 200,000 lions roamed Africa. Today, there are fewer than 30,000 – and these hunters brought that number down for fun.
"What's more, they did it in a shameful way that runs afoul of a law that shouldn't exist in the first place. Hunting vulnerable animals is never acceptable, period. We're taking action to make sure no other lions are killed."
Meanwhile, Dr Palmer is nowhere to be found. He has reportedly gone underground in the onslaught of criticism after he killed the prized African lion.